Here at the Daily Dot, we swap GIF images with each other every morning. Now we're looping you in. In the Morning GIF, we feature a popular—or just plain cool—GIF we found on Reddit, Canvas, or elsewhere on the Internet.
The title on the Rainbow Hands Tumblr is "Spider Webs – No Doubt," the title of a major 1995 hit from a major band, one that formed back in 1986 and is still performing and releasing albums. Yes, at least one ska band made it big.
The great thing about abstract art, however, is that titles may or may not relate to the actual visual content of the artwork in question.
So, on the one hand this may be a straightforward representation of layered spiderwebs. A straightforward representation of layered spiderwebs that has been rainbow-ified and animated in a psychedelic, throbbing tunnel of RGB-enhanced madness.
On the other hand, this may be your frontal cortex neurons this morning. Our condolences.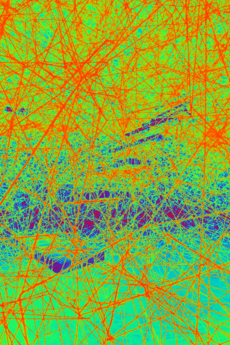 GIF via Rainbow Hands/Tumblr