Here at the Daily Dot, we swap GIF images with each other every morning. Now we're looping you in. In the Morning GIF, we feature a popular—or just plain cool—GIF we found on Reddit, Canvas, or elsewhere on the Internet.
Well, it's all over, and at last we know who ultimately won the Olympics:
While singing live instead of lipsynch caused some uncharacteristic wobbles, resulting in marks off their technical points, they slayed it in artistic merit, garnering 10's across the board. Yes, even from the Russian judge.
Opening with a restrained, stately dressage routine (dressage, so hot right now) performed by staid black London cabs, their number flowed smoothly into a firework-punctuated extravaganza of sequins, LED-glitzed double-decker cabs, high-speed victory laps, Girl Power, and miniskirts that left no doubt that these 40-ish British women can, like Cher, actually turn back time.
Who knew? It seems everyone's got a secret, shameful crush on these five. Are you a fan like Boris Johnson?
You know you wannabe.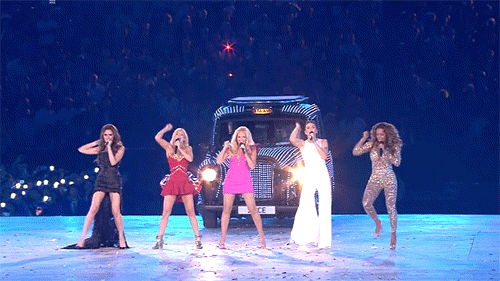 And here's Alexander Boris de Pfeffel Johnson, Mayor of London, giving them their due. Go BoJo!