The Tumblr Streets of Philadelphia pays tribute to the Monkees' late singer Davy Jones. 
Here at the Daily Dot, we swap GIF images with each other every morning. Now we're looping you in. In the Morning GIF, we feature a popular—or just plain cool—GIF we found on Reddit, Canvas, or elsewhere on the Internet.
On Wednesday, Generations X, Y, and Z were shaken with the news that beloved pop idol Davy Jones of the Monkees had died of heart failure at the age of 66.
Although the Monkees were the cynical 1966 creation of a TV studio who saw a way to cash in on Beatlemania, the band's influence should not be underestimated. In 1967, the Monkees outsold the Beatles and the Rolling Stones put together. David Bowie (nee David Jones) is known as "David Bowie" because when he was starting out, Davy Jones was already famous with that name for playing Oliver onstage. That's influence!
Some of the finest songwriters of the 1960s worked with the band, including Carole King and Neil Diamond, and eventually the studio even let the boys write and play their own music instead of fronting for studio musicians. To the suits' surprise, the original music was well-received.
In the Monkees, Jones was the cute one, the charming one, the romantic one, the English one, the short one. When you're 11 and already know Paul McCartney is into older women, that plays very well (not that I speak from experience).
In later years, Jones was a blogger as well as a pop icon, with his family-focused Keep Up with the Joneses updating fans regularly on his performances, his grandchildren, and his foals. Horseman to the end, the diminutive Jones had competed as an amateur jockey in both steeplechase and flat racing, and he raised thoroughbreds in British Columbia and, later, Florida. The blog skips back and forth between his idol years and his later existence as a patriarch and silver fox, the toast of the perimenopausal millions.
Thursday's GIF is an atypical melancholy shot of Jones: His smile was as famous as it was frequent, and it was unusual to catch Davy looking pensive on-camera. This image comes from a collection of four GIFs on the Streets of Philadelphia Tumblr, which has only 75 notes so far.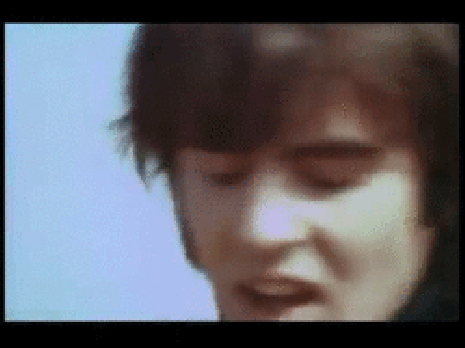 Pure, uncut internet. Straight to your inbox.