Here at the Daily Dot, we swap GIF images with each other every morning. Now we're looping you in. In the Morning GIF, we feature a popular—or just plain cool—GIF we found on Reddit, Canvas, or elsewhere on the Internet.
According to IMDb and the inexorable calendar, today living national treasure, Emmy and Oscar and BAFTA winner, and notable wearer of hats Margaret Natalie Smith, Dame Commander of the British Empire, turns 78 years old.
Well, I have news for IMDb and the calendar: Nobody tells Dame Maggie Smith what to do, and that includes "age like a normal person." She may get older, but clearly she only gets more fabulous.
You would think 80 theatre roles and 61 television and movie roles in everything from Clash of the Titans to Harry Potter to Downton Abbey (best character name: Gwendylspire Boughgrough in The Carol Burnett Show) would wear the woman down a titch. A smidge?
I beg your pardon? This is the utterly indomitable Maggie Smith about whom we are speaking, and if you require proof of indomitability and triumph over the laws of the quotidian universe, look no further than today's Morning GIF.
Towel-on-head-in-orange-bathrobe is not any woman's most flattering ensemble, but if you want to know what is meant by the phrase "perfect bone structure" and what it can do for you, then here you go.
First, Maggie Smith in The Prime of Miss Jean Brodie, 1969. Secondly, Maggie Smith in the entirely underrated My House in Umbria, 2003.
In between, 34 years, ladies and gentlemen.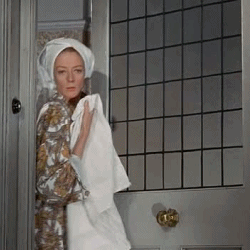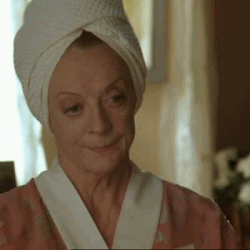 Time is no match for cheekbones and attitude. Oh, it's nothing, really…
All these GIFs are from the Smith-centric It's Not Easy Being Green Tumblr (check out that URL). The first pairing is an undiscovered treasure, with only 56 notes, and the third was the blogger's first original GIF ever, which we are happy to feature. It's just so marvelously, properly, Smithily "Oh bitch, please."