Here at the Daily Dot, we swap GIF images with each other every morning. Now we're looping you in. In the Morning GIF, we feature a popular—or just plain cool—GIF we found on Reddit, Tumblr, or elsewhere on the Internet.
When quarterback Joe Namath was asked on the eve of Super Bowl III whether his New York Jets would defeat the Baltimore Colts, he famously responded, "I guarantee it."
When forward LeBron James was asked the same thing earlier this week after his Miami Heat went down to the San Antonio Spurs three games to two, he let his shoes do the talking.
On Thursday night, James, 28, made good on a premature promise made on the insole of his signature Nike sneakers and became a two-time NBA champion.
James and the Heat defeated the Spurs 95-88 in a riveting Game 7 in Miami. James, who has been critiqued on everything from his jump shooting ability to his fading hairline, contributed 37 points and 12 rebounds. The Heat now join the Los Angeles Lakers as only the second team to win back-to-back championships since Michael Jordan retired from the Chicago Bulls in 1998.
After the game, James was awarded the NBA Finals MVP award by 11-time champion Bill Russell and posed coolly with a smirk on his face.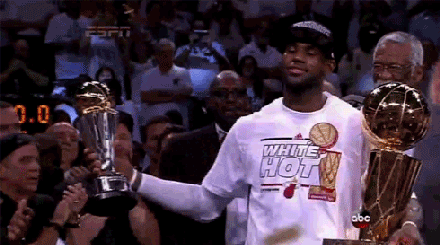 "For me, I can't worry what everybody say about me," James said after displaying his new hardware to an ecstatic Miami crowd. 
James made a career high five 3-pointers in the game to help keep the Spurs from winning their fifth title with all-star Tim Duncan. 
"I'm blessed to be part of such a great organization," James told ESPN. "I got the greatest teammates in the world. And for me, I just go out and try to be the best basketball player I can be every night."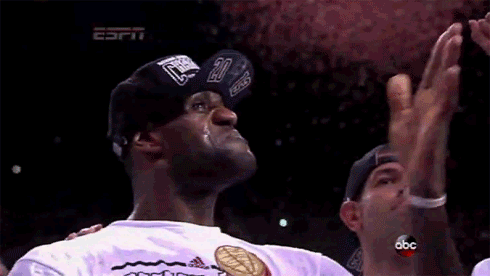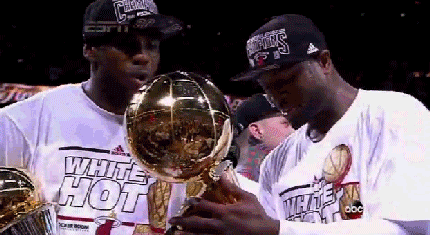 GIFs by Fernando Alfonso III | Photo via doubleclutch