Tech

Tech

The gadgets, platforms, and software that make your digital life possible. If it bleeps, clicks or blinks, you'll find it here.

Internet Culture

Internet Culture

There's a community for everyone online.

Streaming

Streaming

News, reviews, and guides for the world of online entertainment.
The Morning GIF: The first couple of music videos
Lana Del Rey and A$AP Rocky play Kennedys, and nobody bats an eyelash.
Here at the Daily Dot, we swap GIF images with each other every morning. Now we're looping you in. In the Morning GIF, we feature a popular—or just plain cool—GIF we found on Reddit, Canvas, or elsewhere on the Internet.
All hail the first couple of music videos: Lizzy Grant and Rakim Mayers, better-known as Lana Del Rey and A$AP Rocky. It looks like their new song "National Anthem" is destined for greatness, or at least popularity, which is what passes for greatness in a democracy.
The video features the pair as a kind of neo-Kennedy presidential couple, indulging in gambling, boozing, smoking (at the table!), ostentatious public displays of affection, immodest clothing, and, of course, bling. It's all a very 20th-meets-21st century romp, right up to the critical moment and the Grassy Knoll.
VH1 says, "it can be implied that 'JFK' (Rocky) was assassinated for being unconventional, for pushing the envelope against societal norms," but of course these are our societal norms in 2012. We don't aspire to the Kelly bag and the quietly exquisite shoes, but to the tattoos, the VIP table, the magnum of Cristal.
As is usual with Lana Del Rey's artistic endeavors, not everyone has taken this as seriously as she does. Hari Nef on Tumblr has taken Del Rey in a pensive moment, reposing on a lion skin, and played up her famously heavy false eyelashes. A strangely mesmerizing kind of hilarity ensues, along with 4,212 notes and counting.
But—seriously now—how does she keep her eyes open with those acres of leaden bristles?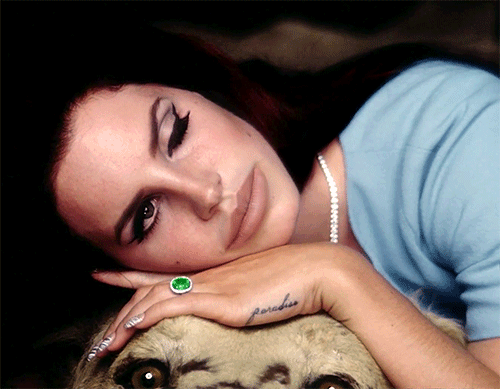 Lorraine Murphy is an Ottawa-based cybersecurity journalist and founding editor of the Cryptosphere. She has a keen interest in WikiLeaks and web culture, and her bylines have appeared in Salon, Vanity Fair, Serious Eats, and elsewhere.
© The Daily Dot, all rights reserved.
Represented by Complex Media, Inc. for advertising sales.