Here at the Daily Dot, we swap GIF images with each other every morning. Now we're looping you in. In the Morning GIF, we feature a popular—or just plain cool—GIF we found on Reddit, Canvas, or elsewhere on the Internet.
During the second quarter of the Knicks-Pacers game at Madison Square Garden, 22-year-old Knicks point guard Iman Shumpert threw down one of the most monstrous dunks of the entire playoffs following a 3-point miss from teammate Chris Copeland.
"I think I was trying to make a statement," Shumpert said after the game, according to ESPN. "That was the most perfect miss. It came off so perfect. It was beautiful. I wanted to win this game so bad. I knew we needed this game." 
Shumpert finished the game with 15 points, six rebounds, three assists, and one steal, which helped the Knicks trounce the Pacers 105-79. The second-round playoff series between the teams is now tied 1-1.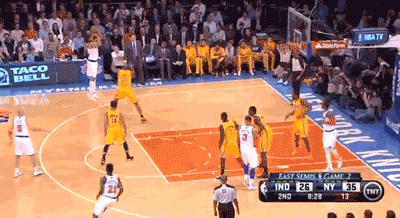 Images by Fernando Alfonso III