A new French documentary about extreme sports junkies inspired this jaw-dropping GIF. 
Here at the Daily Dot, we swap GIF images with each other every morning. Now we're looping you in. In the Morning GIF, we feature a popular—or just plain cool—GIF we found on Reddit, Canvas, or elsewhere on the Internet.
Some animated GIF's are meant to make you scratch your head. While others make you stop and reflect.
The following GIF will make you gasp in awe.
The animation was created using the trailer for the French documentary film I Believe I Can Fly (Flight of the Frenchies), which follows a group of extreme sports junkies as they rock climb, base jump, and slackline (the practice of balancing on a rope that's not rigid) all around the world.
The stunning GIF captures one man somersaulting his way off a cliff while a cameraman follows from behind.
"To be honest, it's the guy running up to the ledge with no safety that is fearless," commented zeroair on Reddit, where it reached the top of the r/gifs, a section, or subreddit, devoted to animations. "The other guy has a parachute."
Other redditors marveled at the movie trailer.
"Holy mother of all that is wtf," wrote stopsucking. " I've never felt so much from watching a video. When they go out there on the rope with no harness. Balls of absolute steel."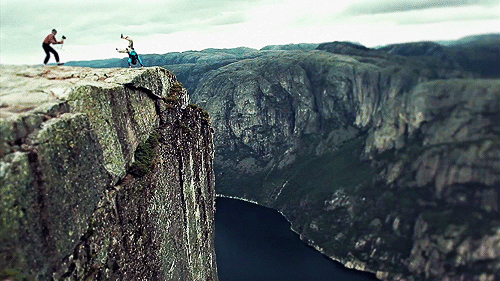 Pure, uncut internet. Straight to your inbox.