Here at the Daily Dot, we have an unofficial tradition of sharing GIF images with each other every morning. Now we're looping you into the circle. In the Morning GIF, we'll feature a popular—or just plain cool—GIF we found on Reddit, Canvas, or elsewhere on the Internet. (A special thanks to Mr. GIF, the three-person animation factory, which created our new logo.)
My favorite part of the Rudolph story? When robot Santa first leaps onto the unassuming ungulate's back, transforming Rudolph into the fire-spewing, robot reindeer we all love and adore from our childhoods.
If you don't remember that moment, you've probably never listened to Rudolph the Red-nosed Reindeer through the filter of some powerful psychotropic substance, as the creators of this morning's animated GIF obviously have.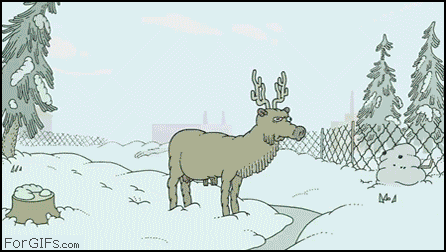 There's an origin story to all this.  
"The general idea was to surprise people with something really anti-[C]hristmas and transform something boring into something amazing," explains Treadt Studio, an animation company that made four similar animations for British channel E4.
Word to the wise: There's nothing anti-Christmas about a fire-breathing robot Rudolph. The seven seconds of this GIF, in fact, may represent the greatest Christmas story ever told.