The latest addition to the team building the spiritual successor to Mega Man is facing a mega backlash online. 
The drama surrounds artist and designer Dina Abou Karam, the new community manager for the Kickstarter-funded indie game Mighty No. 9. The project was started by Comcept USA, with a team of veteran developers led by Mega Man co-creator and illustrator Keiji Inafune. It has received $3.8 million from 67,000 backers. 
Abou Karam was hired after she backed the project and created a piece of fan art depicting Beck—a protagonist with a striking resemblance to Mega Man—as female.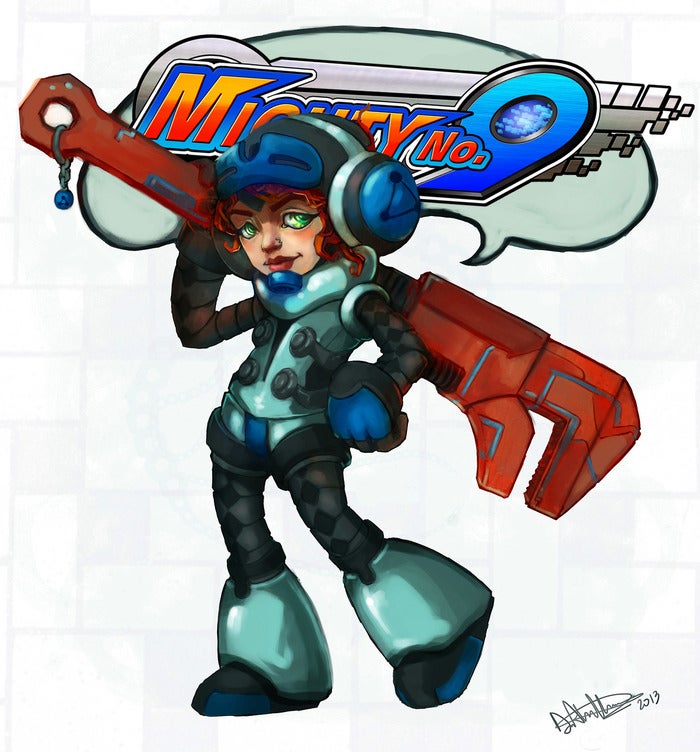 This illustration set other backers off, as did the introduction she made after she was hired:
"I've grown up on video games and have an undying passion for this magical medium," Abou Karam wrote Monday. "I am a Zelda fanatic, a Tim Schafer lover (figuratively speaking), and an unrepentant Final Fantasy 8 hardliner. (No, that's not a troll!) ;) Also, to clear up any forum confusion: Mega Man X is best Mega Man!"
Who was this woman, and why was she reimagining the main character in Mighty No. 9 as female? Did she have an agenda?
Some backers dove into her social media history, and they didn't like what they found.
In tweets that have now been deleted, Abou Karam supported feminist ideals and allegedly admitted to having never played a Mega Man game in her life. She also linked to a video of Anita Sarkeesian, who faced sexist trolling after she successfully launched a Kickstarter to fund a Web series on sexism in games. 
As Sarkeesian's experience has shown, the gaming community often reacts with outright hostility to anyone who raises issues of gender representation in games, especially if that person is a woman. 
Now Abou Karam is facing more of the same: 


To top it off, YouTube user InternetAristocrat created the following 20-minute video to share his disgust.
"I feel really bad for these people," InternetAristocrat said. "They gave a lot of money, $3.8 million. All they wanted, the only thing they asked for, was a successor to Mega Man. They just wanted a game to play. Now it seems like somebody with an agenda, somebody with an idea they want to push, is now in a position where they can get in between that dream, that desire, of the community and its realization in the hands of the actual developer of it."
But there's no evidence that Abou Karam's "agenda" will affect the game at all. 
Nowhere on the Kickstarter page for Mighty No. 9 does it say that the main character, or any supporting characters, will be female. Abou Karam is a community manager, not one of the game's developers, and she hasn't used the game's official social media channels to share her personal views. 
Abou Karam joins the likes of Sarkeesian, developer Zoe Quinn, and countless others who have been mistreated by the video game community, despite the fact that women account for 45 percent of gamers. This needs to change. And Comcept USA has taken the right step.
Update: In the Mighty No. 9 forums, the company has officiallly clarified that its new community manager won't be influencing the content of the game.
"Will the community manager be skewing things the way they would personally like to see the game? Will the community manager ignore views that don't match with their own personal ideals? Will the community manager lose the community's desires due to unfamiliarity with the type of game we are making? Will the community manager be creating their own robots and levels and programming, or changing the game in any way, from what the core creative team wants?! A lot of these or similar questions have been raised.
The good news is that the answer, in all cases, is no.
The job of the community manager is to act as a conduit between the community and the team – basically help keep the team filled in on what all of you are talking about, and help keep all of you filled in on what's going on with the team internally. A community manager who filtered this process to further any personal agenda would not, by definition, be a community manager! :) and the fact that they were doing so would be immediately obvious to the team, who is plugged into the community in more ways than one.
When it comes to feedback, a Community Manager needs to be detached and impartial, and rest assured, Dina is and will be (in fact, one of the first bits of feedback she passed along were the concerns some had about how she would work in her new role, which is why I'm posting this here, today. :)" 
Photo via Kickstarter