Every day, the Daily Dot finds something that people on Facebook are sharing and, in turn, shares it with you—with a little explanation. Here's today's share.
Hundreds of Facebook users have found one way to deal with the horrors of the cannibalistic Florida man who ate most of another man's face—by repurposing a classic logo.
The crazed man was suspected of being under the influence of so-called "bath salts," a type of designer drug, in a horrifying incident that's grabbed America's attention. In homage to the attack, someone has redrawn the classic Morton Salt Umbrella Girl into a classic, shuffling zombie. Her dress is torn, her flesh is rotting, and instead of a streaming canister of Morton salt, she carries a disembodied head that streams blood.
Most users found it funny. "Hmm…. Is that my ex?" asked Nick Taylor.
A few, however, lamented the Florida incident as representative of a disturbing trend of Americans trying to eat each other.
"a lady in california stole a baby out of a stroller, slammed it against a pole and tried to rip its arm off and eat it," Cat Dennis wrote.
Actually, though, Dennis's comment might illustrate why we're not in the middle of a zombie outbreak. That California incident happened almost a year earlier, in July 2011. If that woman really were a zombie, the outbreak would have happened months earlier.
Update: While it's unknown who added the "Morton Bath Salts" caption, this parody image was originally created by Michael Katits, a Connecticut-based graphic designer, in 2010. Katits told the Daily Dot he created the image, titled "When It Brains, It Pours," as "the antithesis of decay and rot," and thus a symbol of an unyielding creative drive.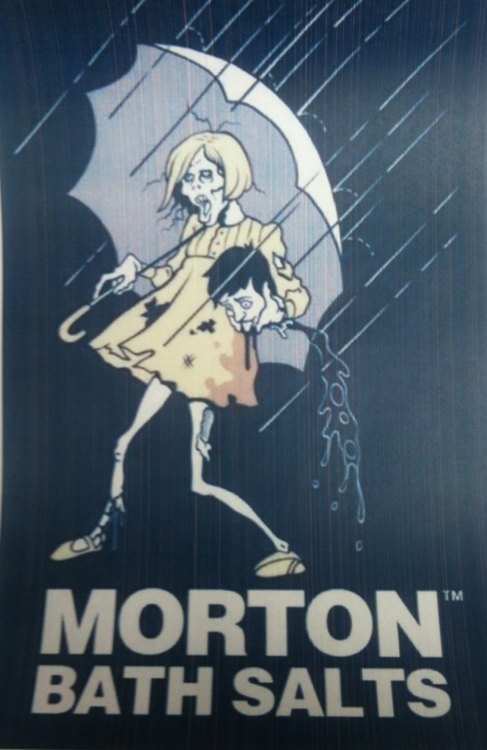 Photo via Little white Lions/Facebook