2013 will be the year of the Fox.
After rumors swirled that Megan Fox died, the personified wet dream joined Twitter to announce that she's actually alive. Adorned with a blue verified checkmark, @MeganFox first tweeted late Thursday.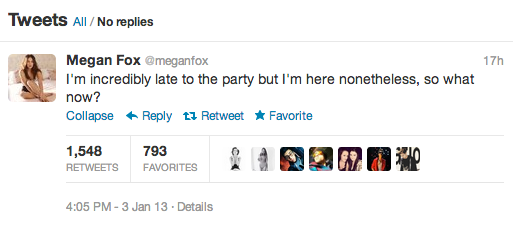 "I'm incredibly late to the party but I'm here nonetheless, so what now?," tweeted Fox to her 40,000 and growing followers. The apparent comedic powerhouse describes herself as a "Lover. Healer. Mother" in her Twitter biography. However, the Transfomers star currently follows zero people.
Proving her social media prowess, Fox told her 31 million fans on Facebook that it is indeed her on Twitter. She originally started tweeting under @MeganFox516 (her birthday is May 16) because all variations of her name were taken. Her handle has since been changed to reflect her real name.
Fox faced the usual Twitter orientation of crying and shaking fans asking for a follow back, people professing their love, and another person properly summing up what must be all celebrities' feelings about joining Twitter.
"Let the regret begin," tweeted Nate Erickson.
Uh, welcome?
Photo via Megan Fox/Twitter