BioWare, the development company behind the popular Mass Effect video game franchise, has released a statement about its controversial Facebook post thousands of fans found offensive.
The culprit? A piece of fan art portraying Commander Shepard, Mass Effect's hero, as Pinkie Pie, a pony from My Little Pony: Friendship is Magic.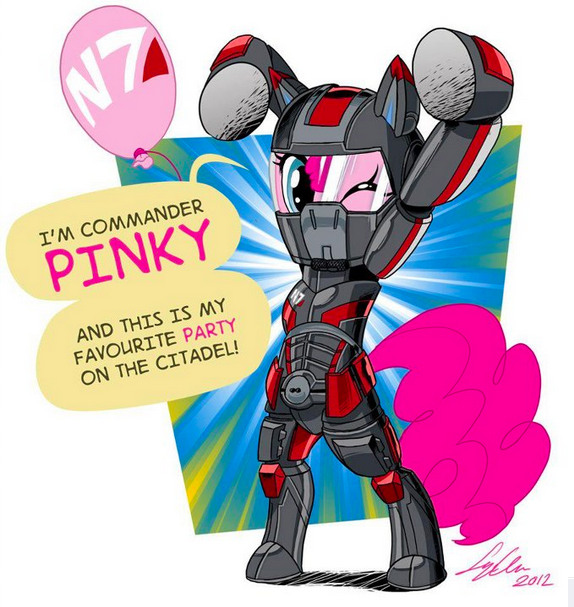 Upon viewing this offensive image, hundreds immediately "un-liked" BioWare's page, and still more sent scathing comments. Since its posting on Aug. 10, the post has nearly 4,000 strongly polarized comments.
"I hope whoever runs this page gets shot. Peace out," Dom Pietro wrote.
Others viewed the post as an offense higher than Mass Effect 3's conclusion, which was so unpopular with fans that BioWare created a new ending.
"Mass Effect pony?" Károly András Simon wrote. "After the ME3 ending, I was confused … After this, I hate you, Electronic Arts! [BioWare's parent company.] You want money from the idiot pony fans too? BioWare is dead, because if they were alive, they would have stopped this."
The image was eventually posted on brony megahub Equestria Daily, leading to 9,000 likes and dozens of arguments between denouncers and supporters.
This isn't the first time BioWare has overlapped Mass Effect with other fandoms on its page. The same week it posted this drawing, it made a reference to fans of Buffy The Vampire Slayer, Doctor Who, and Firefly.
However, this reference to an equine children's show has pushed so many fans over the edge, BioWare community manager David Hulegaard felt compelled to make a reply on the company's official blog:
"At BioWare, we think of our fans as our extended family, and as within any family, there are bound to be times when we won't always see eye-to-eye. Sometimes Uncle Jay is going to root against your favorite sports team. Sometimes cousin Sue is going to wear socks with sandals. And sometimes, just sometimes, we're going to post pictures of little pink ponies sworn to protect the galaxy from Reapers."
Hulegaard offered this advice to fans:
"If you don't enjoy a particular post, that's okay. You can't please everyone, as they say. However, rather than become hostile and turn against the community, we have an alternate suggestion: Create something better. Instead of raving about what you don't like, show us an example of something that appeals to you."
Whether Hulegaard realizes it or not, fans are already taking his advice. Mass Effect fans who are still unhappy with BioWare's choice for the ending (and ending revision) are hard at work trying to build an ending they'll finally be happy with.
Maybe BioWare's pony troubles will cool down a little more quickly.
Photo via BioWare