When word began to spread about a Velvet Underground tribute group called Pizza Underground, everyone from Good Morning America to Bon Appetit attempted to slice up the appeal. The NYC quintet, which features actor Macaulay Culkin on percussion, specifically covers Velvet Underground songs, with a twist: They're all tweaked to be about pizza.
This is the perfect Internet success story—a wouldn't-it-be-funny-if meta-joke coaxed into reality by gimmick culture.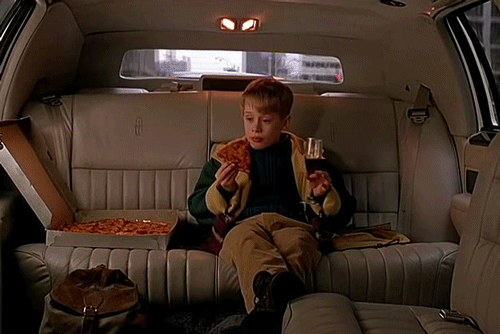 To see this meta-joke come alive onstage only added to the suspension of disbelief: Some 900 people RSVP'd for the band's Austin show on Facebook. Further, Pizza Underground played the opening of a pizza truck. As the group took the stage just after 9:30, Culkin, dressed in a black sleeveless shirt and sunglasses, trolled the crowd a bit:
"You guys like food trucks?"
After opening with "All the Pizza Parties," they proceeded to play "I'm Waiting for the Delivery Man," a stripped-down version of "Rock and Roll" (but about the creation of pizza rolls), Lou Reed's "Perfect Day" ("Pizza Day"), and a medley of other VU songs. "Anchovy Warhol" shuffled through the crowd taking pictures.
About four songs in, a few people in the crowd started getting restless, perhaps realizing they'd been—to quote John Lydon—cheated, though out of what no one was really sure. Free beer, possibly. Then, someone in the crowd spoke up:
"This shit sucks!"
The scene was one of peculiar brand synergy (there was a tent selling e-cigarettes, next to a table selling Girl Scout cookies) and digital cryptocurrency was used to purchase food-truck wares, like a modern-day Oregon Trail:
My friend bought pizza for 40 people at the pizza underground show with bitcoins. How useful!

— Jennifer Sinski (@jennifersinski) February 1, 2014
The Velvet Underground was Warhol's muse, and in accordance with his performative business model, Pizza Underground's approach sort of makes sense. In December, they released a video of Culkin eating a slice of pizza in silence for nearly five minutes. Their Tumblr is a pop-culture pastiche of pizza and Velvet Underground references. In December, they engaged in a faux beef with another pizza-themed band. The live performance was more an extension of that pop-art, is-this-real, improvisational history.
Was it good? No. But for 20 minutes, the crowd indulged the gimmick. And online, Pizza Underground's done an impressive job getting people to go along with the joke, which counts for a lot these days.
Photo via the Pizza Underground/Tumblr