Lacey Micallef is perhaps the quintessential Tumblr artist.
Her prismatic, pop-fantasy GIF art resonates with the community to the tune of hundreds of thousands of reblogs. Using motifs of junk food, rainbows, and 4/20 culture, her work possesses an undeniably hypnotic quality, making her blog, lulinternet, an absolute must-follow account.
Micallef's acclaim extends beyond on the realm of Tumblr, though. She works full-time as a GIF artist, with a resume that includes projects for Tim and Eric, Frederator (the studio behind Adventure Time), and AMC's hit drama Breaking Bad. She also set to work on an undisclosed project for an Adult Swim show.
"I've definitely been really lucky with the work I've been getting," Micallef told the Daily Dot. "It's all been totally unexpected."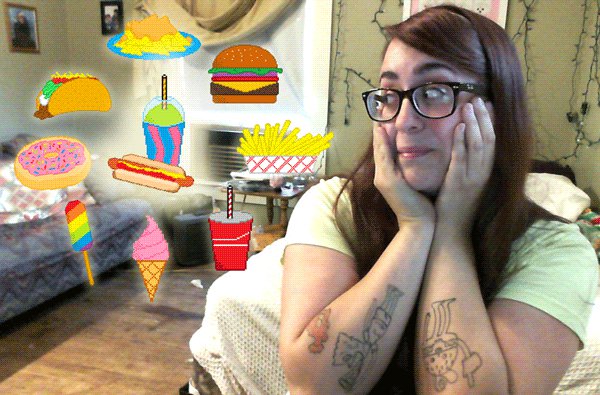 Here's the truly amazing part that puts it all into perspective: The 24-year-old artist was working as a preschool teacher in Missouri late last year.
"I spent all of my spare time making GIFs," she said. "As the stuff I made started to get more popular it became clear to me that I didn't have to keep being a teacher anymore if I didn't want to. So, I took the plunge, quit my job, and moved to New York City."
Micallef originally discovered GIF art during a period of unemployment by trawling dump.fm, a seizure-inducing real-time chat service, in which users communicate with GIFs rather than text.
"If it weren't for that site and the people on it, I would have never started making gifs," she said.
Struggling to balance life in the Big Apple with a new teaching gig, Micallef didn't have time to keep up with the constant chatting. It was then that she moved to a network she'd just discovered, Tumblr. While it's hard to gain notoriety for one's art on dump.fm, the new platform made easy "to share things and get an immediate response," she said.
Micallef quickly developed an enormous following.
"There are people who love me, people who like me, and people who love to hate on me. I'm incredibly appreciative of people who support me and what I do 100 percent. Those people have been totally invaluable to me becoming who I am in the 'world of gifs.'"
—Lacey Micallef
Tumblr is also how Micallef was first introduced to her real-life boyfriend, the equally GIF-obsessed Christopher Price, better known as Topher Chris, Tumblr's community manager.
"[H]e was a total fangirl," Micallef joked. "Chris and I met through Tumblr, obviously, started seeing each other at 'events' since I had moved to NYC and then we just sort of became a thing."
Avid Tumblr users can often see the two acting cute on their respective blogs. Micallef created an animated pixel rendition of Price's face, which he uses as his blog header. In turn, Price isn't above posting lovey dovey compliments about Micallef:
"My girlfriend Lacey is awesome because:
She is awesome.

She makes incredible art and animations.

We both hate the same things/people.

She's a wonderful partner and inspiration throughout my entire life."
Not content to rest on the laurels Price has assigned her, Micallef is currently working on Pepperoni Pals, which she described as a "pizza art collective," set to launch in July.
Junk food and GIFs—it's clearly a recipe for success.
"[I]t's always a good feeling when you go somewhere and everyone is familiar with your work, and they know who you are," Micallef said. "It feels like you've 'arrived.'"
Photo via Lacey Micallef