As told to Cooper Fleishman
I went to Lolla and survived. But barely. Zero service. No phone calls. No tweets. Nothing. A random text every two hours or so. Impossible to enjoy without tech. People seem to be having fun, but once you lose your friends that's it.
Saturday, 1pm: We agree to split up. One girl has to find a ticket. We have a set meeting spot for 4pm.
1:25pm: Found a ticket. Use GroupMe to text everyone to say we're in. Text doesn't go through.
2pm: Wander over to the Bud Light stage to get good seats for Ellie Goulding. "Should we just stay here and tell them to come meet us instead of having to walk back to the meeting spot?" Seems like a good idea because the seats are GOOD. If we leave we won't get them back. Call one of the girls in our group. Phone doesn't go through. No texts either. Hmm. OK.
2:30pm: Still not sure what to do. We don't wanna lose seats. No service. 
3pm: Texts in GroupMe come in hours late. We try to use regular text. But then the plan changes and not everyone gets the memo.
3:30pm: There's advertising everywhere to download the Lolla app and tag photos. It's almost insulting. We couldn't send a text for hours.
3:45pm: There were 12 of us. Most of us ended up with just one buddy. Smart people who were clearly seasoned have walkie-talkies. 
5pm: I saw Adventure Club alone because I got lost. Phone is at 45 percent battery.
6pm: Finally found people at the fountain (central) around 6pm. Texts from hours earlier were coming in and throwing us off. "Meet us here!" …Wait, was that now? Or is that from hours ago? 
7:15pm: Go see the Lumineers with five people. Crowd building for Mumford and Sons. People standing with balloons at random places. "I'm near the purple balloon!" "Don't move!"
8pm: I have 7 percent battery. I make my way up to a landing to send a Hail Mary text: "Guys I can't find anyone gonna head out see you back at the house."
8:15pm: Mumford strike their first chord and the crowd just floods. I snap this pic: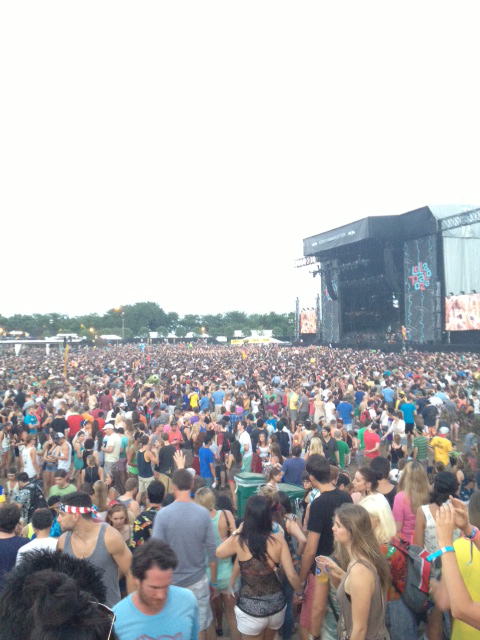 Yeah, no finding them now.
Sunday, 10am: In the cab, I get this: "Just got all of the texts." "Me too."
 
Photo via Leyla Arsan/Flickr