Pixar best watch out: It has a couple of fans who are dedicated enough to create a live-action version of the classic animated film Toy Story.
The filmmakers used a DIY aesthetic with green screens, strings and wires, stop-motion effects, and real-live humans to tell the story of Woody and Buzz Lightyear as they vie for owner Andy's attention. It took dedicated duo Jonason Pauley and Jesse Perrotta two years to make their version of the movie, initially working on the project in their free time.
It's a wonderfully charming take on the 1995 original, with the action sequences perhaps the most impressive points. Buzz's "flight" around Andy's room, the fight between Woody and Buzz, and the climactic chase all bear an astonishing resemblance to its forebear.
The details, down to the A113 license plate on Andy's mom's car, are impeccable too. Since it was uploaded Saturday, YouTubers have viewed the film more than 1.7 million times.
The filmmakers travelled to Pixar last week to dish out some copies of their dedicated take. Pixar employees, including Toy Story editor and Toy Story 3 director Lee Unkrich, shared their thoughts on Twitter.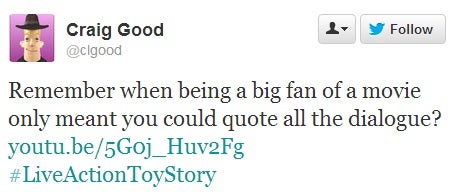 Faithful fan retellings of popular movies are hardly a new phenomenon. As a bonus, here's a wonderful shot-for-shot retelling of Raiders of the Lost Ark a few Indiana Jones fans created over several years in the '80s.
With this remarkable Toy Story retelling in the can, you have to wonder which other Pixar movie is ripe for the live-action treatment from Pauley and Perrotta. Finding Nemo with real-life sharks? Wall-E with monumental piles of garbage? Toy Story 2 with that huge airport-set closing sequence? It's hard to say, but after a shot-for-shot remake this good, there's little doubt they'd do a strong job.
Photo via Live-Action Toy Story Project/Facebook