A top user pops the question to his girlfriend on BuzzFeed.
Len Kendall wants to know, "Katie, will you marry me?"
And he's convinced all of BuzzFeed to help him propose.
Kendall, a 28-year-old digital director from Chicago, just happens to be one of the top 50 community contributors to BuzzFeed. Now, the site—a viral content factory where readers rate stories as "LOL" or "WTF," among other tags—is repaying him by promoting his marriage proposal on the front page.
This morning, Kendall added a post titled "Help Me Convince Katie to Say 'Yes!'" to BuzzFeed. The post includes an exploitable image macro depicting Kendall proposing for users to remix.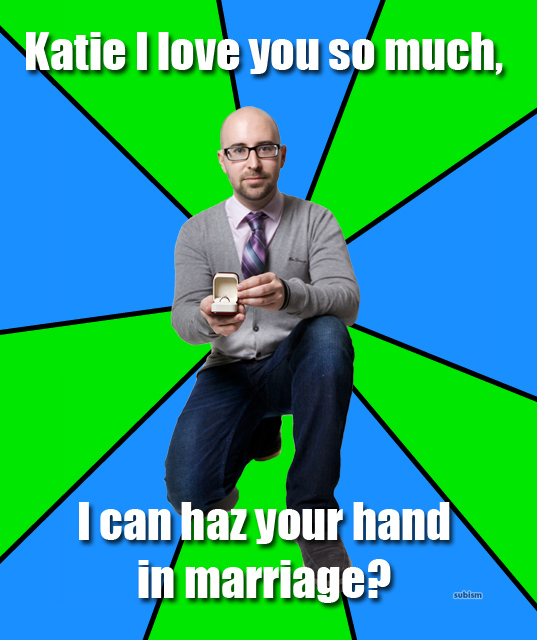 An editors' note prefaces the post, indicating BuzzFeed's official involvement:
"Len is proposing to his longtime girlfriend Katie right here and now. Help him out by leaving an image in the comments persuading her to say yes and making Len the happiest man in the whole internets! We'll update this post as soon as she responds. OMG!!!"
BuzzFeed's dashboard has even been customized with the proposal:

BuzzFeed's official account is also tweeting about the proposal, encouraging users to trend #SayYesKatie and #BuzzFeedProposal on Twitter.
BuzzFeed users were divided on the prudence of Kendall's proposal strategy.
"@BuzzFeed So chivalry/romance in 2012 is proposing via internet? I'm honestly surprised the dude even has a girlfriend. Good luck to him," replied @TinyStonehenge.
"Len, you are BRILLIANT! ;)" commented Victoria Harres Akers on the post.
The most creative responses, however, are the meme-referencing remixes BuzzFeed users have generated, incorporating double rainbows and Angelina Jolie's leg.
We'll update the story when we hear the result, but we already know it's going to be a yes. No one could say no to Jeremy Lin.
Update: Something may be about to happen! Kendall just tweeted, "I love you @hollandersauce. Stay calm. I'll see you soon 🙂 #SayYesKatie."
Updated update: SHE SAID YES!
Yelp! A love story
Matthew and Leslie Lyon-House met three years ago through the social reviews site. They're now married with a kid.
Pure, uncut internet. Straight to your inbox.