Tech

Tech

The gadgets, platforms, and software that make your digital life possible. If it bleeps, clicks or blinks, you'll find it here.

Internet Culture

Internet Culture

There's a community for everyone online.

Streaming

Streaming

News, reviews, and guides for the world of online entertainment.
Lawrence O'Donnell's words spread on Facebook
What does talkshow host Lawrence O'Donnell really think about liberals? Check it out and see for yourself.
Every day, we at the Daily Dot find something that people on Facebook are sharing and in turn, share it with you—with a little explanation. Here's today's share. 
A picture created by a group called the Anti-Republican Crusaders is being shared rapidly on Facebook, defending the word "liberal" from its detractors. Though it was originally posted in December, it's only now going viral on the site: over 8,500 times and counting. More than 2,000 of those have come in the past twelve hours.
The image is a picture of MSNBC political analyst Lawrence O'Donnell Jr., overlaid with text that lists notable accomplishments by liberal American politicians.
The quote apparently comes from a 2005 episode of the West Wing called "The Debate," which was written by O'Donnell. In the show, it's spoken by the character of Matt Santos in a live presidential debate. Santos, interestingly, was modeled after then-Illinois Senator Barack Obama.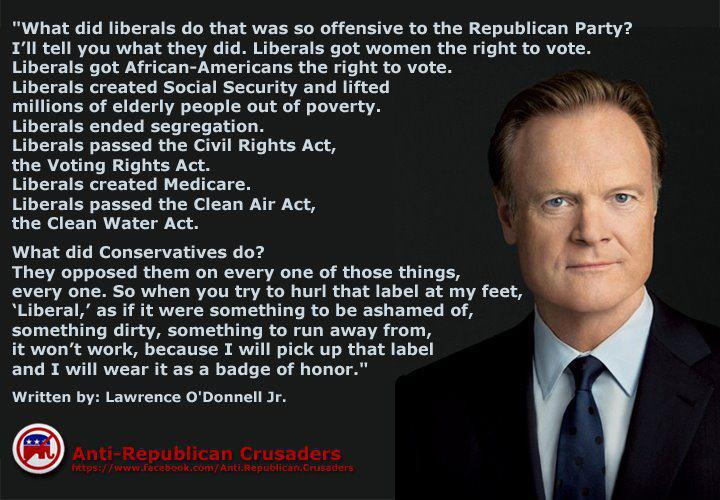 A former senior politics reporter for the Daily Dot, Kevin Collier focuses on privacy, cybersecurity, and issues of importance to the open internet. Since leaving the Daily Dot in March 2016, he has served as a reporter for Vocativ and a cybersecurity correspondent for BuzzFeed.
© The Daily Dot, all rights reserved.
Represented by Complex Media, Inc. for advertising sales.