Say what you will about Lady Gaga's outlandish fashion choices, but on Sunday night, the Mother Monster's skimpy seashell bikini was by far the most tweeted- and GIFed-about subject at the MTV Video Music Awards (VMAs). 
Since 11pm ET alone, Gaga has been mentioned on Twitter more than 800,000 times thanks to a thong bikini she wore on stage during her performance of "Applause."
"She executed some precise dance moves with her ensemble, and lip-synched some pedestrian lyrics," the Chicago Tribune's Greg Kot reported. "Tucked inside all that moving scenery, there was a new song, I'm pretty sure. Who cares? It's the VMAs—where it doesn't matter if it doesn't at least hit 'ridiculous' on the watchability meter."
Instead of changing into something more comfortable following her opening performance, she just sat right down, noted New York Times reporter Brian Stelter:
Lady Gaga just walked back to her seat… and she's still wearing that string bikini. #VMAs

— Brian Stelter (@brianstelter) August 26, 2013
Okay well I'm wearing Lady Gaga's seashell bikini for Halloween, obviously.

— David Robert (@DavidRobert) August 26, 2013
While seated, Gaga was pampered and prodded by her assistants, making sure her bikini was on just right. All of these moments were captured live thanks to "VMA all access," MTV's free livestream, which covered the audience, VIP room, and backstage—everything but the actual performance.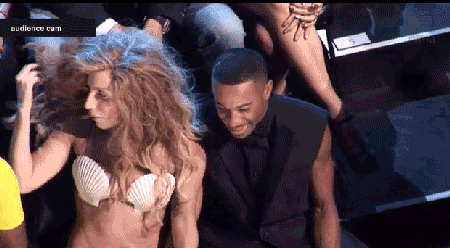 And, with the camera placed perfectly at waist level, it also captured plenty of Gaga's rear end.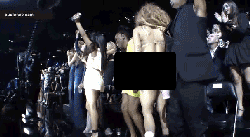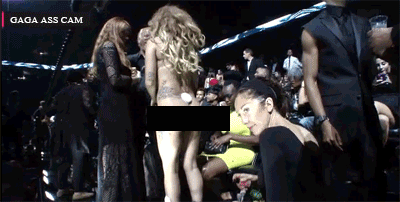 Later, Gaga went over to congratulate One Direction on winning Song of the Summer for "Best Song Ever."
Zayn is touching @LadyGaga in this photo: pic.twitter.com/Mf4gAivJXy

— Jeremy Cabalona (@jeremycabo) August 26, 2013
But the camera still followed her butt:
Then they took a pic together, caught on MTV's Gaga Ass Cam: pic.twitter.com/oDqnqBDfWw

— Cooper Fleishman (@_Cooper) August 26, 2013
Photo via weheartit.com/Tumblr | GIFs by Jason Reed and Fernando Alfonso III