Some fans would do just about anything to meet their musical idols. In the case of Lady Gaga devotees, they are even willing to give out sexual favors for the chance to get close to Mother Monster.
Earlier this week, Lady Gaga released "Applause," the first single of her upcoming new album ARTPOP. In an effort to get the single to the top of the charts, the singer posted on Twitter that she would fly two fans to London to accompany her to the iTunes Festival. You just have to be the Little Monster who purchased the song the most times (and requested it on the radio).
The 2 fans w the most purchase/gift screenshots, radio requests, 'Applause' selfies/video, will fly international to meet me+watch the show!

— Lady Gaga (@ladygaga) August 13, 2013
The contest, predictably, got out of hand. According to The Examiner, some fans were spending upwards of $300 buying multiple copies of "Applause," which is currently available on iTunes for $1.29.
As if that wasn't ridiculous enough, one Los Angeles individual even went so far as to post a Craigslist ad offering fellatio "that will make you go GAGA" to anyone who had proof of purchase of the single.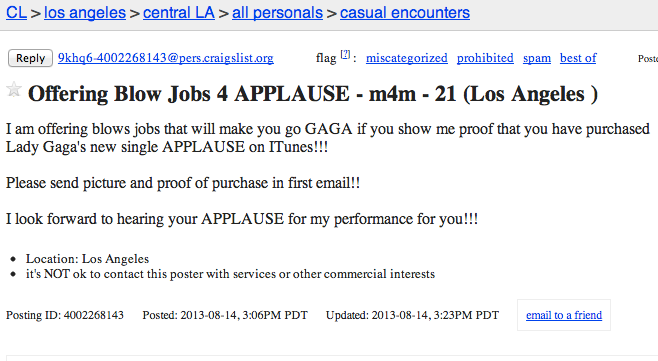 Here's another ad, from Miami: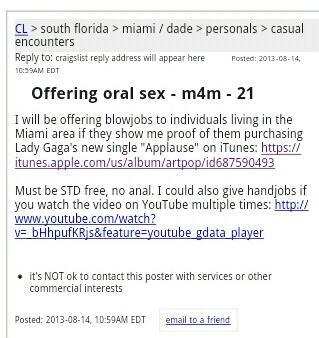 In all likelihood, that desperate plea for the iTunes receipt is a hoax, not to mention a great way to drum up some publicity for the pop star. Unfortunately, no amount of oral stimulation could propel "Applause" to the top of the charts. The single currently stands at No. 4 on iTunes—right behind Katy Perry's new song "Roar," Robin Thicke's "Blurred Lines," and Luke Bryan's "That's My Kind of Night."
Photo via TJ Sengel/Flickr