On Friday's episode of Kitchen Nightmares, tireless celebrity chef and amateur culinary psychiatrist Gordon Ramsay finally gave up.
In Scottsdale, Arizona, the owners of Amy's Bakery and Cafe are infamous for their vitriolic tirades against unhappy customers, both in their restaurant and online. They responded to Ramsay's attempt to help with a mixture of hostility and paranoid rants. Watching the chef attempt to talk sense into the couple was like watching a mathematician explain arithmetic to a pair of wooden planks. For the first time in the show's history, Ramsay walked away.
Amy and Samy Bouzaglo responded with what is certainly one of the more awe-inspiring social media meltdowns we've ever seen, launching a series of grammatically challenged all-caps Facebook rants against their enemies: the "Yelpers and Reddits."
Let's go through it all step-by-step. Before the show aired on May 10, the couple was already defending itself.
We do not feel the need to make any excuses for our behavior on tonight's show. However we would like to make the following statement: We do not, nor have we ever stolen or taken any of our servers, waitresses, or waiters' tips at Amy's Baking Company.
Once the show aired, the restaurant's Yelp page was flooded with one-star comments, and the tone of the messages the couple posted to Facebook changed considerably.

Soon Reddit's r/cringepics subreddit had discovered the Facebook page. The couple responded:
To all of the Yelpers and Reddits: Bring it on. you are just pussies. come to arizona. you are weaker than my wife, and weaker than me. come to my business. say it to my face. man to man. my wife is a jewel in the desert. you are just trash. reddits and yelpers just working together to bring us down. pathetic.
Within a few hours they were threatening legal action. Though it's worth noting that Amy is no stranger to the law. In 2003, she was found guilty of identify theft after she was caught using another person's social security card to secure a $15,000 line of credit.
This is Samy. I am keeping note of all names here. We will be pursuing action against you legaly, and against reddit and yelp, for this plot you have come together on. you are all just punks.
It was not a witch hunt because there were no actual witches involved, Amy noted:

Eventually Wonder Woman made an appearance:
I AM WONDER WOMAN. I AM A GREAT CHEF, A GREAT WIFE, AND A GREAT MOM TO MY KIDS. AND WE WILL BE PARENTS TO A HUMAN KID, ONE DAY TO. WE WILL SHOW ALL OF YOU.
They were ready to take their disagreement with the Internet outside: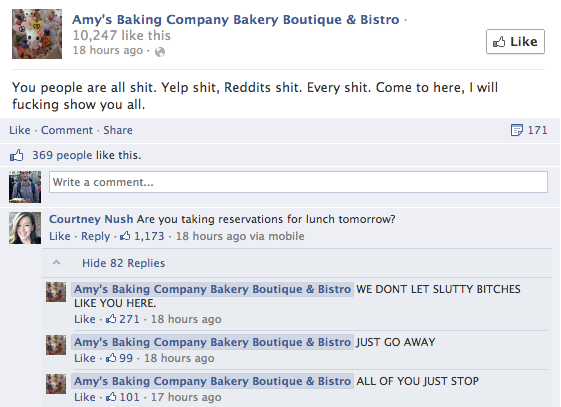 Unofficial uploads of the videos have gone viral, collecting nearly 90,000 views on YouTube. Amy and Samy's maelstrom of madness just won't stop exapnding. At this point we kind of wish a benevolent Facebook employee would just step and do the right thing: Shut down their Facebook page. It's only humane. Save the Bouzaglos from themselves.
Photo via Fox/Eater