Kim Kardashian and Kanye West's insufferable pregnancy announcement is also spawning something equally terrible: Twitter parody accounts.
A plethora of humorless, dull, moronic accounts popped up overnight in celebration.
Brian Feldman took on the the dubious task of hunting down the accounts. His findings are enough to make us hide under our Kardashian Kollection sheets for the next nine months.
Most of the accounts followed the same stupid jokes: the fetus is already wealthier than you, Kim's well-known sexual past, changing every word with a C in it to a K. Good stuff.
Here are the five worst Kimye baby parody Twitters to make you rethink life and cement (kement?) your Kardashian loyalty with Mason and Scott Disick.
1) @kimyefetus / 946 followers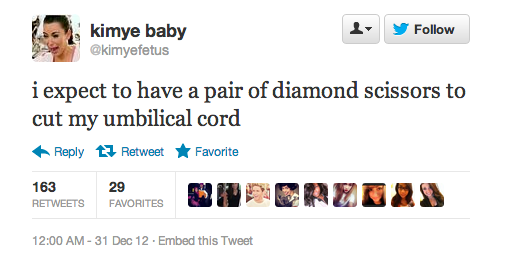 (Warning: NSFW for a TwitPic of Ray J.'s penis.)
2) @kimyesfetus / 0 followers

3) @KIMYESBABY / 625 followers

4) @TheKimyeBaby / 6 followers

5) @kimyebabyy / 20 followers

Photo by Eva Rinaldi/Flickr