We often wonder about the possibilities of time travel, but why does it inspire us? And how likely is it that we might ever be able to test out theories of time travel ourselves instead of just consuming them in pop culture?
A Brief History of Time Travel, a new documentary looking for funding on Kickstarter, is hoping to explore all these things. The film was created by a team of women who may not have scientific backgrounds in the subject but share a personal interest in time travel. Director Gisella Bustillos was inspired to explore why people are so obsessed with time travel after watching the movie La Jetée. She later met Dani Creech, the documentary's editor, and Wanda Bertram, the documentary's producer, at some film events where they discovered a common love of sci-fi.
"The bulk of our theoretical physics education has definitely happened on the film—we interviewed some brilliant scientists, like Ed Farhi and Seth Shostak, but we're filmmakers first," Bertram told the Daily Dot. "Our fan loyalties are all over the place! Gisella is a huge fan of Star Trek: Voyager, Dani's a serious Whovian (we had to have one on crew!), and I go for the noir-ish ones like Looper." 
The crew traveled around the country and spent two years interviewing a wide range of people to get their thoughts on time travel, including Bill Nye, cryobiologist Chana Phaedra, and Double Fine Productions founder Tim Schafer. As they traveled the country speaking with various people, the crew found themselves sometimes surprised by what they discovered.
"It's fascinating to hear about scientific research that seems to be getting us closer to actual time travel, like the theoretical experiment that might solve the grandfather paradox," Bertram said. "But it's also mindblowing to learn how time travel stories are connected to our perception of free will and physicality, which sounds like it should take a back seat to the 'Is it possible?' question, but is actually very connected to that question. Interviewing people on the street challenged our assumptions too. We'd ask silly questions like, 'Would you rather go forward or back?' and the vast majority of people wanted to go to the past, which surprised us. We three all want to go to the future!"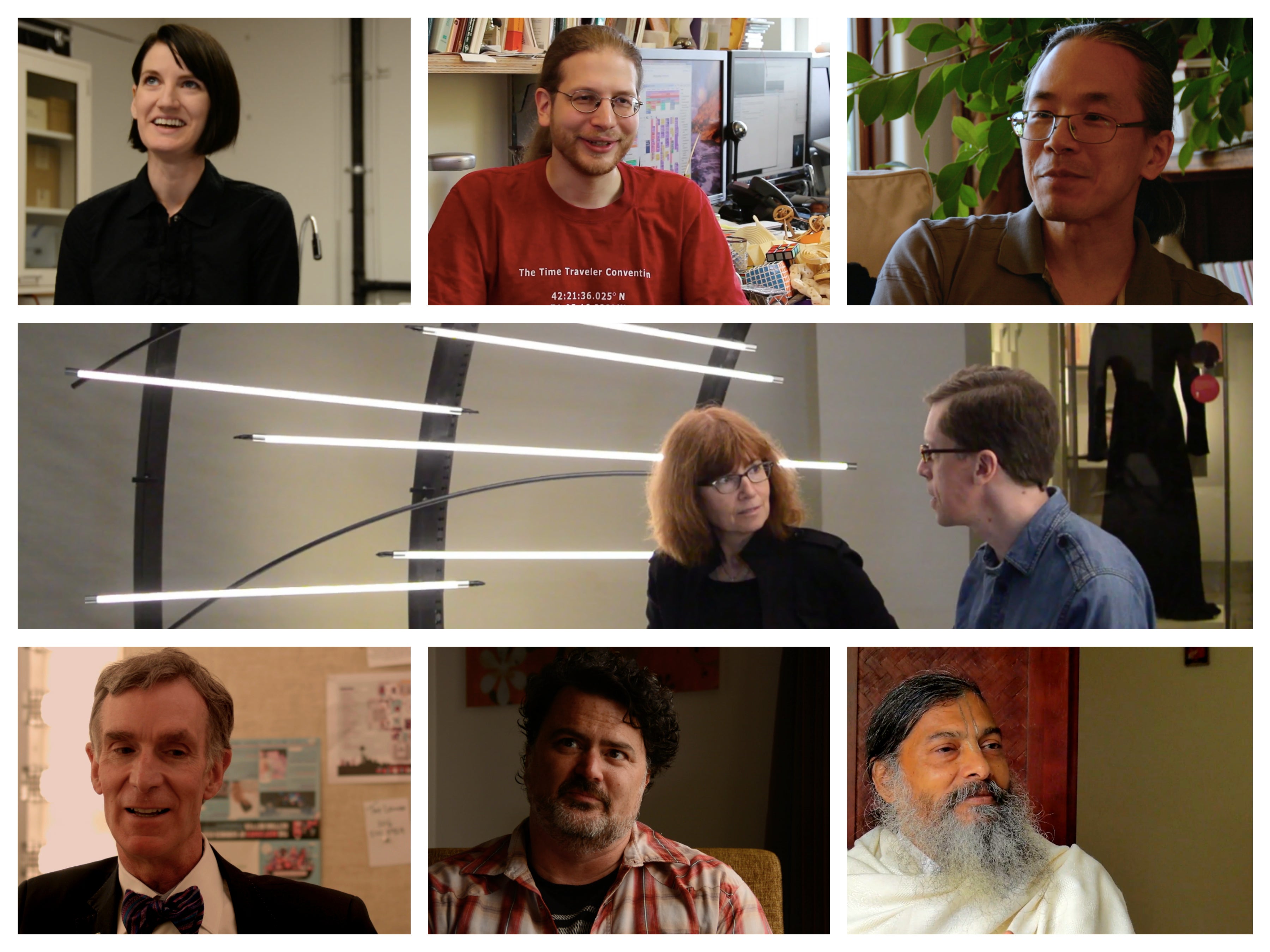 In the documentary, people will learn if time travel to the future or past is more likely possible, when humans first started thinking about time travel, and much more. Now that filming is complete, the crew is turning to Kickstarter for help getting through their post-production phase. The funds will pay for hiring additional crew like an animator and editor, and paying for archival footage and copyright material.
"Choosing Kickstarter had a lot to do with the supportive fan base we developed during production—an overwhelming number of people we've met have been really excited and offered their help to the point where we can do really gorgeous post-production on an efficient budget," Bertram said. "Community-based fundraising is something we really believe in, and we want the community of time travel fans to grow!" 
The crowdfunding campaign ends on Oct. 17.
Photos courtesy of Wanda Bertram