Kevin Connolly just got cast as an OB-GYN in his first major TV role since his days as Eric "E" Murphy on Entourage, and while E may have been able to smooth-talk women, his real-life counterpart isn't having such luck.
Even worse, his mental breakdown—as Guyism's Katie Nolan dubbed it—happened right on his Facebook page for the whole world to see.
It started last May, when Nolan publicly responded to a tweet that Connolly made about hockey. She called him the "former crush-of-my-life," and to her surprise, Connolly sent her a direct message minutes later.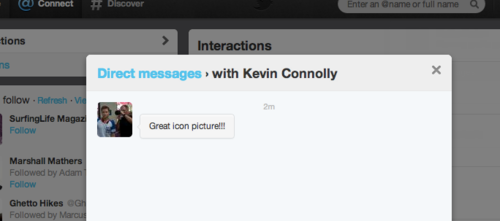 Nolan, being the type of person who screencaps everything and posts it on social media, shared it with her Facebook fans. A number of her commenters ragged on Connolly, calling him pompous and Entourage "dogshit." 
For her part, Nolan mentioned her "epic short-guy complex." "I watched John Q 15–1,500 times because of this kid," she wrote. Although she was convinced that Connolly was fake (despite the "verified" checkmark next to his name), Nolan continued conversing and flirting with him through Twitter. She would tweet something and he would respond privately. 
But the honeymoon wasn't meant to last. Just a few days after Nolan posted the screencap to Facebook, Connolly found Nolan's page on Facebook. And a few days after that, he took to responding to the criticism himself. Connolly took the time to find her followers and attack them, even going so far as to find a picture of one man's wife and mock her appearance.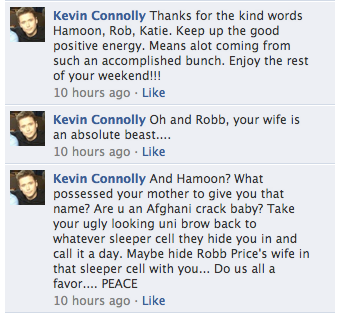 Nolan was baffled. She responded to Connolly's criticisms (since at that point he'd unfollowed her) and called him out for insulting her followers and making sexist, racist comments. 
The back-and-forth followed middle-school-style through public Facebook comments, private messaging, and more direct messages. Connolly called her ugly several times and said that she deserved to be berated.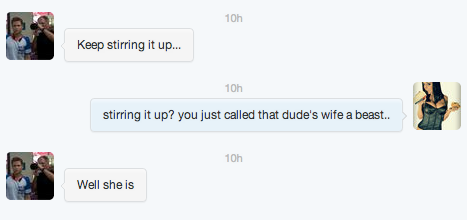 "[I]t's important to remember that celebrities are just normal people who have money," Nolan wrote about the exchange. "Some are probably cool as hell, some are boring as shit, and some have serious mental issues that cause them to stomp their feet and cry really loudly when someone says anything not nice to them."
However, the feud, which remained dormant since Connolly's outburst in June, stirred up again after news came out that Connolly had been cast in CBS's Friends With Better Lives alongside James Van Der Beek. 
Nolan tweeted, "HA, you guys think @mrkevinconnoly's sitcom will suck?? He plays an OB-GYN. Watching him try to figure out a vagina can't not be hilarious."
Apparently Nolan had been unblocked. When Connolly saw the tweet, he publicly responded with the same "beast" joke that got him verbally attacked last time.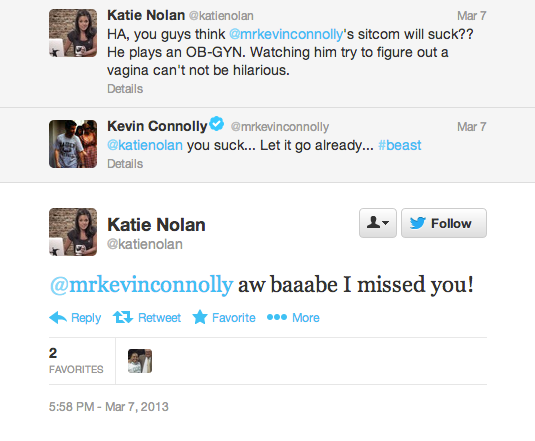 She called him out some more on Twitter after he attacked one of her followers, but it looks like this won't be ending anytime soon.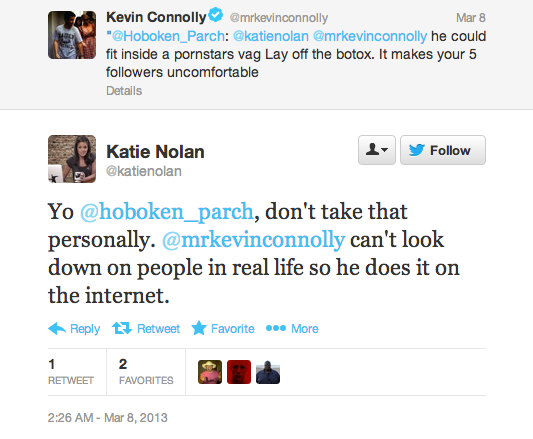 "He was just a mean person who has no sense of gratitude for where he's at or even just personal decency," Nolan told Jezebel. And I don't think celebrities should get away with being dicks just because they're celebrities."
Your move, Connolly.
Photo via tvguide/YouTube. Screencaps via Katie Nolan. H/T Jezebel.