Stop whatever unimportant thing it is you're doing, because here's some real news: Orlando Bloom allegedly started throwing punches at Justin Bieber last night in an exclusive Ibiza club.
TMZ is reporting that the Hollywood A-Lister lunged for the Canadian crooner early on Wednesday morning—and the celeb gossip site has the apparent aftermath caught on video.
You can just make out Bieber shout "What's up, bitch?" at the start of the recording, before he and his entourage beat a hasty retreat. The altercation allegedly took place in the exclusive Cipriani restaurant—which also played host to Paris Hilton and Diddy that night, TMZ reports. 
It's said that after Beiber exited, "the crowd applauded."
Upon hearing the news, the Internet went into meltdown, as it is wont to do in these situations. A casual glance of the Twittersphere reveals an abundance of Lord Of The Rings puns,  and an overwhelming number of #TeamBloom supporters. 
Justin Bieber & Orlando Bloom got into a scuffle. Lord of the Rings fans are excited about this real life fight between and elf & a dwarf.

— Lee Mays (@OriginalLeeMays) July 30, 2014
Legolas tried to punch Justin Bieber. Amazing. https://t.co/XmPfmk3pJM

— Laurence Mozafari (@Laurence_Moza) July 30, 2014
Orlando Bloom punched out Justin Bieber. Just another reminder that you don't have to wear a cape to be a superhero.

— David Hookstead (@dhookstead) July 30, 2014
if i had to pick someone to punch justin bieber, orlando bloom wouldn't be at the top of my list, but i'll certainly take it.

— kim windyka (@kimlw) July 30, 2014
Legolas is my hero. "@tvbrendon: [VIDEO] Orlando Bloom Throws Punch at Justin Bieber https://t.co/64pBYPrzgy"

— Josh Ong (@beijingdou) July 30, 2014
This dispute didn't come out of nowhere—TMZ has more details on the background to the confrontation:
"Justin partied with Orlando's then-wife Miranda Kerr after a 2012 Victoria's Secret fashion show in NYC and they got very VERY close. And in April of this year, Orlando was hanging out with Justin's on-and-off GF Selena Gomez. So the bad blood is flowing."
This suggests the two may yet come to blows again—and perhaps next time, Bieber won't run away.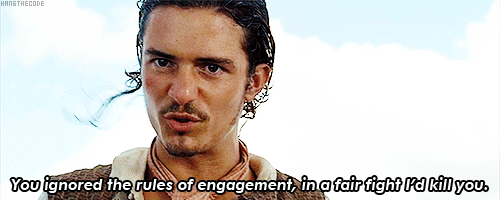 GIF via scottymouth/Tumblr
H/T TMZ | Photo via Glyn Lowe / Flickr (CC BY 2.0) / Photo via Joe Blielawa / Flickr (CC BY 2.0) | Remix by Rob Price