In his ongoing battle with Glee, Jonathan Coulton has finally found a way to monopolize on the exposure that the popular television show gave him.
Coulton released the single "Baby Got Back (In the Style of Glee)" on iTunes, GooglePlay, and AmazonMP3 on Saturday.
If the tune sounds familiar, that's supposed to be the point. Coulton covered the Glee version of "Baby Got Back" that was released on Jan. 18 (and aired this past Thursday), which he says is "EXACTLY THE SAME as my own version."
And to put pressure on Glee, he's donating everything he makes from the song to two causes close to the show's heart.
"I'm releasing this under the same Harry Fox license I used for the 2005 release, so Mix will get all the royalties due to him," Coulton explained in a new blog post. "I'll donate the proceeds from all sales that happen between now and the end of February to two charities: The VH1 Save the Music Foundation, and The It Gets Better Project."
He won't know exactly how much money he will be donating to charity right away. He has to deduct the license fees from his net sales after iTunes takes its cut, and even then it can take up to a couple months for iTunes to report the numbers.
Coulton originally made the allegations against Glee on Jan. 18 when the songs for the episode "Sadie Hawkins" first appeared online; he even thought that they may have used some of his audio.
He reported that Glee and FOX finally got back to him a week later, one day after the show aired its version of "Baby Got Back" without any change, and they revealed that this was their general policy when it came to covers of covers. Coulton wrote:
"They also got in touch with my peeps to basically say that they're within their legal rights to do this, and that I should be happy for the exposure (even though they do not credit me, and have not even publicly acknowledged that it's my version – so you know, it's kind of SECRET exposure. While they appear not to be legally obligated to do any of these things, they did not apologize, offer to credit me, or offer to pay me, and indicated that this was their general policy in regards to covers of covers."
He went on to say he's grateful for all of the support he's received from fans, and although he urged them to be civil, he asked them to buy the single and hopes that Glee will donate its proceeds from "Baby Got Back" to charity as well.
"I don't know how big this will get, but there's a potential to make a lot of noise this way – imagine if this thing charts!" Coulton wrote. "And failing that, we will create some real world impact by raising a lot of money for two great causes that are directly related to the Glee brand. There's your win-win."
He already has his wish. As of Sunday afternoon, "Baby Got Back (In the Style of Glee)" is at No. 104 on the iTunes Top Singles chart. By comparison, the top Glee song comes in at No. 116 and Glee's version of "Baby Got Back" isn't even in the Top 200.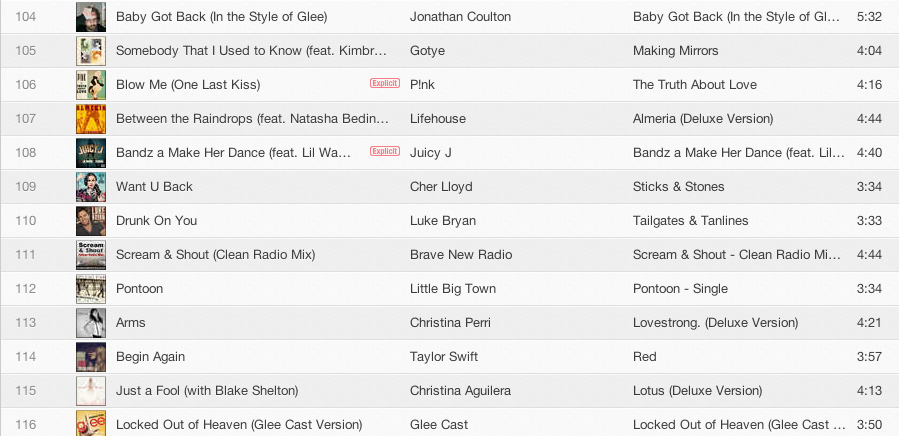 Your move, FOX.
Photo via tr.robinson/Flickr