In its neverending quest to invade the souls of its fans every day of the year, the NFL's free agency frenzy began Thursday afternoon, and like usual, the fate of a few quarterbacks were the news drivers. While fans and observers could debate the futures of starting QBs like Tony Romo and Brock Osweiler, the New England Patriots backup QB also has become a major target of rumors Thursday, namely whether the Patriots would trade Jimmy Garoppolo for a first-round draft pick to a team in desperate need of a QB.
And for a few minutes early Friday morning, it seemed New England had made a deal. If you looked at Garoppolo's Instagram account at about 4am ET, anyway.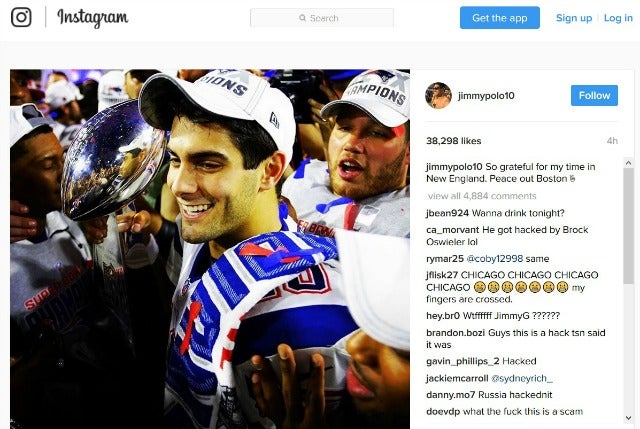 Here's the problem, though. According to a number of media outlets, the Instagram post was either a hoax or a prank. Five hours after it was posted, it was finally deleted, and it appears Garoppolo is still with the Patriots and still backing up starter Tom Brady.
USA Today writes, "No, Jimmy Garoppolo hasn't been traded, no matter what his Instagram page says."
Wrote ESPN, "A source close to Garoppolo told ESPN's Mike Reiss that he believed it was a 'hack' or 'hoax' while adding 'not to my knowledge' when asked about a potential trade."
Wrote Pro Football Talk, "According to multiple reports, people close to Garoppolo say he's not on Instagram at 4am, and the post appears to be a hoax."
Spoke to someone close to Jimmy Garoppolo who had no knowledge of any trade and believes it's a hack. Alas, it's 5:26 am now & we're all up

— Ian Rapoport (@RapSheet) March 10, 2017
Still, the Instagram post, at least temporarily, confused fans.
If Jimmy Garoppolo doesn't have two-step authentication on his Instagram he's not capable of being a perennial QB.

— Ryan Wyatt (@Fwiz) March 10, 2017
https://twitter.com/TweetinRooster/status/840159724146438145
i was awake and didn't freak because ur talking about a backup qb and the browns, the world did not stop turning.

— m.l (@LEONEMC) March 10, 2017
Either way, it appears Garoppolo—now the most famous backup QB in all the land—is still with the Patriots. Not that the Patriots were willing to concede anything.
"While I am aware of the media's interest in this story, I don't think I am going to be much of a resource for verifying social media posts and identifying what they mean," a Patriots spokesman told the Daily Dot on Friday morning.