Updated: December 29, 2013. 
These days, in order to succeed in the music industry, you have to know how to reach your fans—even the ones who are pirating your work. 
When the London Stock Exchange listed Iron Maiden as one of the entertainment sector's rare outperforming bands, grossing $33 million annually, it caught the attention of U.K. analytics specialist Musicmetric. 
According to CiteWorld, the music industry analyst wanted to see for itself what Iron Maiden's secret was, so it decided to run stats on Iron Maiden's shares and social network performance globally to see what it could find.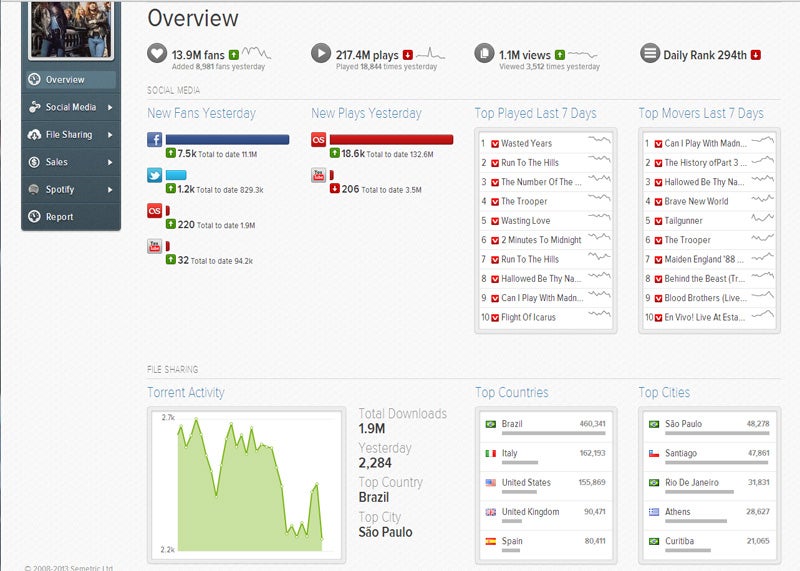 In Iron Maiden's case, Musicmetric noticed that downloads of the band's music were growing in South America and Mexico in conjunction with the band's Twitter presence in those areas. 
CiteWorld concluded from those findings that Iron Maiden had planned a world tour specifically targeting the areas in South America where the band's catalog was most heavily pirated. Musicmetric has since denied any collaboration with the legendary heavy metal act. The confusion seemed to stem from a Nov. 29 Guardian report in which Musicmetric CEO Greg Mead claimed bands like Iron Maiden could use filesharing data to discover underreported fanbases. 
Iron Maiden, however, has never struggled to reach its fanbase in creative ways and has maintained a substantial following in South America and related territories since well before the era of filesharing. Bruce Dickinson and company have toured extensively and filmed part of their 2009 concert documentary Flight 666 there. A single 2011 concert in São Paolo alone grossed $2.6 million.
Correction: This story and its headline have been updated to reflect clarification provided by Musicmetric to TechCrunch. 
Photo via Wikipedia