I remember very well the first time I stumbled upon it. I was in high school and a college football fan, so I had little interest in what was a rather lackluster Super Bowl. During a particularly dull stretch, I absentmindedly began to flip channels.
And suddenly there they were: puppies. Puppies of every make and mold, all shapes and sizes, adorably tussling about a miniature football field. A golden retriever, a dachshund, a bulldog; tiny, fuzzy, maddeningly cute. What was this black magic yanking at my heart strings?
It was, of course, Animal Planet's Puppy Bowl. Then in its relative infancy (the Puppy Bowl first aired in 2004), the program was simple compared to the three-ring circus it is today. After last year's record-breaking 12.4 million viewers, consider the ante upped. Puppy Bowl X is putting its origins to shame: there's a fantasy league, a live cam so you can watch pre-Puppy Bowl puppy play. Discovery Museum in Times Square has been completely dedicated to all things Puppy Bowl this week. Animal Planet landed Internet phenoms Keyboard Cat and Lil BUB for the halftime show, for god's sake.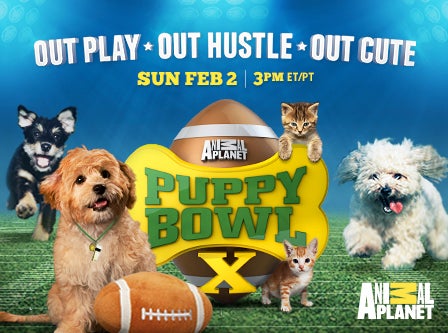 This hoopla all came from a very simple and perhaps futile quest on Animal Planet's part to hold on to viewership, during the Super Bowl. The story of the now-famed pitch has taken on a myth-like quality, in part because no one from the original Puppy Bowl team is still with the channel.
"The most popular tale of how Puppy Bowl came to be is that during a production and development meeting, the team was throwing out ideas of what to put on against one of the most popular programs to air all year—the Super Bowl," Melissa Berry, an Animal Planet representative, said. "Someone mentioned the simplicity and genius of the yule log on TV, which prompted someone else to suggest putting a bunch of puppies together in a room and letting them be puppies and see what happens. Of course, the idea was jazzed up a bit, they were put on a mock football field, given toys… but that is how Puppy Bowl was born."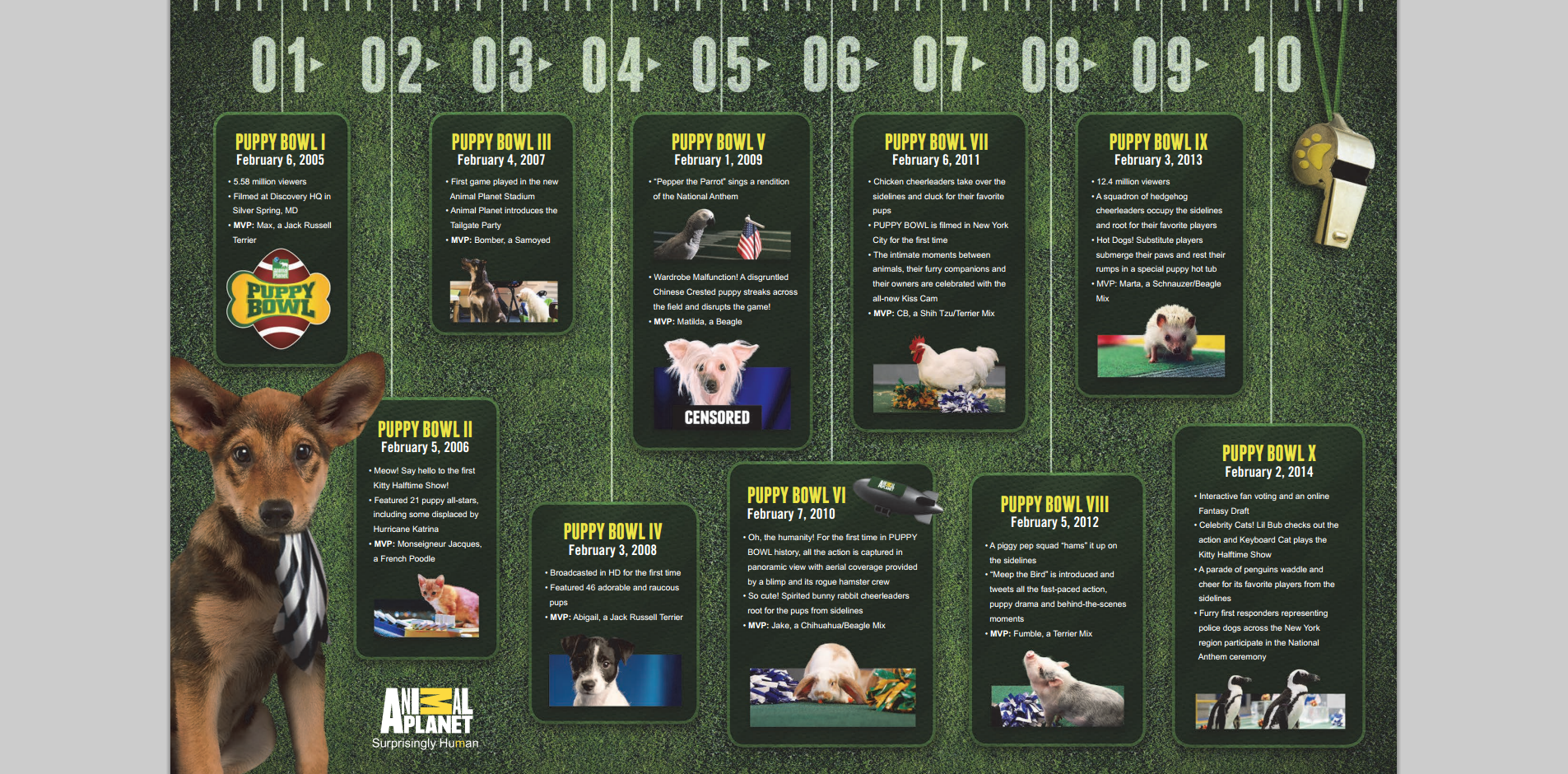 From there, it has grown at a rapid pace. There is a ref, kittens make an appearance, there are "cheerleaders," a blimp. Penguins. There are penguins. "This year there are even more social media components, such as fan MVP (Most Valuable Puppy) voting and fans getting a chance for photos of their Puppy Bowl parties to appear live on-air via Instagram."
The evolution is almost startling, but it certainly corresponds to a cultural shift that's happening. We live in a world of Grumppuccinos and famous Pomeranian death rumors; animals are not just some of our favorite memes, they are some of our favorite stars. It's all-too appropriate that Animal Planet regular Lil BUB is part of this year's show. "BUB's role in the Puppy Bowl is actually that she is watching it from her 'winter cabin' and providing reactions and commentary," BUB's owner Mike Bridavasky tells me via email. "This was actually filmed in Chicago this past December."
He says that while BUB and he are in New York for the week's Puppy Bowl festivities, they're also promoting the upcoming Lil BUB's Special Special, which airs on Animal Planet Feb. 8. (It's been on my calendar for weeks, cards on the table.)
BUB isn't the only one that pre-taped Puppy Bowl. The show itself was taped back in October at a soundstage in New York over the course of two days (this means that the puppies at the event this week aren't the same ones from the show itself; the original participants are much too big now). Animal Planet used 21 cameras to capture the footage, and then edits the hundred-plus hours down to the most exciting parts. "It's edited and made to look like it's a real game," Puppy Bowl referee Dan Schachner tells me (who during our call only referred to the Super Bowl as "the other game," to my genuine delight).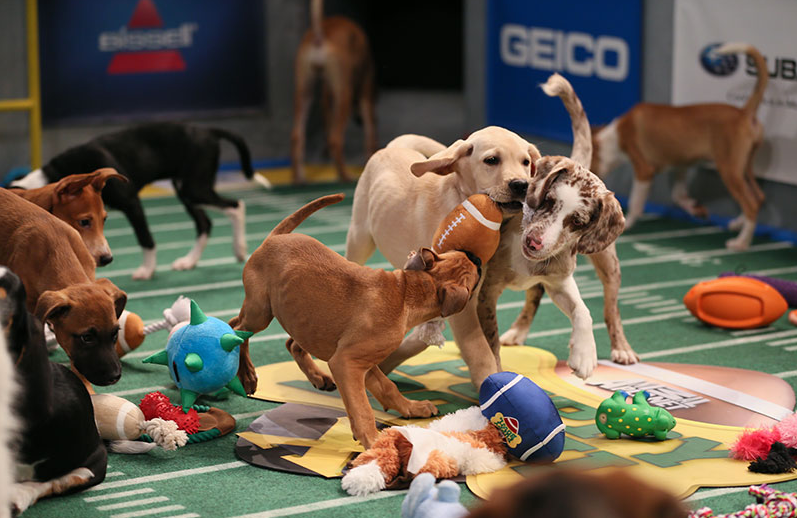 It's Schachner's third year serving as Puppy Bowl ref. He's traditionally trained as a TV host, but makes an exception to keep the animal athletes in line during the show. To land the gig, he says he "sent in an audition tape where I went to dog parks in New York City and interacted with the dogs there, and had a couple of meetings with [Animal Planet]. Got an allergy test, and we were set!"
The challenges to Puppy Bowl reffing are few. "For me, it's just a matter of trying to call the right fouls at the right time, not call too many. You kind of have to pick your battles. You can't call fouls for pooping because otherwise you'd be there all day."
While I'm far more interested in the bowel movements of these puppies than I care to admit, there's one thing I really want to know about Puppy Bowl:  How, for the love of everything furry and allergy-inducing, do the powers that be choose the puppies? It seems a daunting, heartbreaking challenge.
Berry said that Discovery Studios (the umbrella under which Animal Planet lies) does its homework on shelters and rescue groups to ask for puppy submissions.
"A casting call is also posted to Animal Planet's website so rescues and shelters from across the country can apply if interested. Then the production team reviews the photos of the puppies, they are often sitting next to a soda can or something so you can get a sense of their size. [They] make sure they meet the age requirement (they have to be at least 12 weeks old by the time the show is taped), and they look for a good representation of a variety of breeds as well as a good size range," she said.
If that sounds overly cold and calculated for something involving, you know, puppies, rest assured it is not an easy decision. Berry said producers admit yes, it is difficult to choose. "They are all so adorable that it's not an easy task for them to narrow down the list."
The submissions come from a variety of shelters and rescues, one of them being the Sato Project. The Sato Project focuses its dog rescue efforts in Puerto Rico (where there are many feral dogs that aren't treated as pets), especially on Dead Dog Beach. The grim name is sadly very fitting: it's described as a "last resting place for dogs," where starved, abused, and poisoned (or worse) dogs go to die. Despite this harrowing situation, the group has made tremendous strides in the three years it's been operating.
This is the organization's second time working with the Puppy Bowl, and it's won a special place in Animal Planet's heart after last year.
"Our first year we had four dogs in the starting lineup and it was a difficult process because it was during Hurricane Sandy so they had to reschedule, and I was trying to get puppies in from Puerto Rico, which was no easy feat," Sato Project founder and president Chrissy Beckles tells me. "It became a logistical nightmare, but I made it happen and I think it endeared me a little to Animal Planet.
"This year we have eight puppies in Puppy Bowl X," she said proudly, also mentioning that three made it to the starting lineup. Beckles deserves to brag, considering how some of these puppies made it to the squad.
"Over the summer, we had a dog that was pregnant on the beach and unfortunately gave birth there. We finally managed to get her and the puppies out, and I remember turning to our vet and saying, 'these will be our Puppy Bowl puppies. These little ones have to be treated like gold.'"

The Sato Project puppies, pictured after being rescued with their mother. 
Photo by The Dead Dog Beach PR Project/Facebook
The outcome for dogs born in these conditions is typically bleak. The puppies born to mothers without vet care can be extremely malnourished, but these four—Apollo, Artemis, Abdiel, and Alanis—were given expert care by the Sato Project's vet, Dr. Bianca Aguirre Hernández.
"[Bianca] took in [the mother] and her four puppies, and when these puppies came back to me in October, they were the chubbiest, healthiest puppies you ever wished to meet," Beckles said. "They were beautiful!"
These four were joined by three sisters (DeeDee, Darby, and Debbie) who were dumped on the beach at five weeks old, as well as Simon, a dachshund mix. Puppy Bowl has been a major coup for the Sato Project, which is still relatively young and has big ambitions.
"The greatest thrill for me is when the Puerto Rican press gets ahold of this," Beckles said. "It can be used as a positive, educational thing. In my mind, if it can get these dogs who unfortunately don't have good lives on the island off of it, and if it can change people's perception of these dogs on that island, then that's a fantastic thing that's been done. And I really feel like it's starting to happen.
"The four that were in last year, the eight that are playing on Sunday, they are representing the 250,000 stranded dogs on that island."
Sato's eight all have home homes now. Beckles says when they were being adopted, she would tell the families' they were "getting a real superstar," but being under a nondisclosure agreement couldn't admit their new pups were proud Puppy Bowl veterans. "It was wonderful to email them and tell them their puppy is going to be in the Puppy Bowl, they were so excited!"
Happily, they weren't the only ones to find new families. Berry tells me that as of last week, all but two of Puppy Bowl X's puppies and all of the kittens have been adopted. And if you want some good happy-cry material, Animal Planet is adding two segments; Dog Years: Life After Puppy Bowl and Pup Close and Personal to offer a look at alums' personal stories.
In all honesty, I'm simultaneously thrilled and overwhelmed at the barrage of Puppy Bowl elements at my disposal. Between the Instagram feeds, Meep the Bird's tweet dispatch, the pre-show, the post-show, the show-show, I feel sort of like I did when I adopted a dog as a kid. Wandering the rows and rows of dogs needing homes, both excited about my new pet and preemptively guilty about the ones I didn't choose.
But when it comes to Puppy Bowl there really can be no guilt. The puppies get to be puppies, the rescue groups fulfill ther missions, Animal Planet has a showstopper, and I get hours and hours of delightful puppy pouncing. It's an all-around win.
Photo via Animal Planet