Valentine's Day is upon us, and with it the long-awaited return of David Fincher's acclaimed Netflix webseries House of Cards. Since much of the U.S. continues to be snowed in, it might be tempting to hole up with your honey on the big day and snuggle up with everyone's favorite Machiavellian power couple, brilliantly portrayed by Kevin Spacey and Robin Wright.
Here's how fellow Daily Dot reporter Fernando Alfonso summed up his anticipation for season 2: "If I were a lesser man, I'd literally watch it all straight starting at midnight, pretend i never saw it, and rewatch it with my lady. But I'm not a monster." But that's how it always starts, Fern. That's how it always starts.
Still, not everyone might be in the mood to mix dangerous games of politics with his roses and chocolates. For those of you who aren't looking for healthy relationship lessons from Mr. and Mrs. Macbeth, here are 10 things you could do instead of binge-watching House of Cards:
1) Watch the original U.K. miniseries instead.
There's a reason the Brits, kings of the miniseries, think House of Cards is one of the best miniseries ever created. Featuring a pinprick-sharp script by BBC miniseries master Andrew Davies and an unforgettable performance by Ian Richardson as Francis Urqhart, you'll never hear the words "You might think that; I couldn't possibly comment," the same way again. Oh, and it's also available on Netflix.
You'll have to look elsewhere for its two equally gripping sequels, however: To Play the King and The Final Cut. Or you could…
2) Read the books both series are based on.
Though the U.S. House of Cards Americanizes the politics of its U.K. predecessor, the original remains most faithful to the trio of novels written by British politician Michael Dobbs in the '90s. As Deputy Chairman of the British Conservatives during the government of John Major, Dobbs was no stranger to cutthroat politics; in fact, the Guardian once called him a "hit man." Who better to tell you a Shakespearean tale of politics, greed, and hubris in Parliament than a man who lived it?
3) Let Kevin Spacey romance you as nature intended—with his voice.
And we don't mean letting him seduce you through the fourth wall on TV. If you've never heard Spacey sing, prepare to swoon:
4) Relive that time Robin Wright was Princess Buttercup.
It's not like we've forgotten about Princess Bride. It's probably the only movie in recent cultural memory more quotable than Mean Girls. So why would you want to watch Robin Wright play a manipulative political power-grabber for Valentine's Day when you could watch her play one half of the most romantic duo of all time? Besides, we all know that the real Rodents of Unusual Size are U.S. politicians.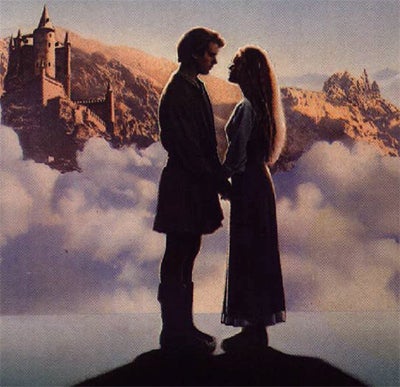 Photo via jseattle/Flickr; CC BY-SA 2.0
5) For that matter, she sings, too:
Not to imply that this was the best part of Beowulf, but, OK, this was totally the best part of Beowulf:
6) Watch any of the other zillion times Spacey played a sociopath.
Se7en, Swimming with Sharks, (SPOILER) The Usual Suspects, Looking for Richard, Midnight in the Garden of Good and Evil… you name it. Just pick a film, any film—you're bound to find a nuanced, chilling performance from Spacey that will leave you shivering weeks later. Just make sure it's not K-Pax. Everyone makes mistakes.
7) Get your sweetheart to re-enact that Mena Suvari bathtub scene from American Beauty.
It's Valentine's Day, so you already have the roses.
8) Go outside and shovel the sidewalk.
Let's face it. You know it needs it. If you let it wait till the morning, it's just going to be crusty and frozen, and it'll probably have another layer of snow on top of it. But if you do it now, you get to claim early Valentine brownie points from your sweetheart. You know what tastes good with brownies? Kisses of gratitude.
9) Play any one of a dozen new Flappy Bird imitations.
Try to race your partner to the end. Wind up repeatedly banging into the first tube until you're sitting on the ground in tears. Cry together over boxed wine. Renew your vows.
Flap it forward.
GIF by Aja Romano
10) Just watch this video 20,000 times.
Disclosure: The author of this article was once an active member of the Kevin Spacey fandom; she once asked him to sing a duet with her; he said he'd keep it in mind. Kevin! Call me! 
Photo by Pinguino/Flickr (CC-BY 2.0)