We love the Internet. Except when we hate it. Every week, Jordan Valinsky bottles the angst of his Millennial generation and finds something to despise about the Web.
Everything is the same in the supposedly eccentric world of "fine casual dining" restaurants.
The menus are peppered with overzealous hyphenated adjectives (I can't decide if I hate "flame-grilled" or "hand-crafted" more), the restaurants' decors all feel like some failed Goodwill fire sale, and the cocktails are neither "ultimate" nor "refreshing." And if the secret to getting laid is going to T.G.I. Friday's, as the commercials imply, then we must be doing it wrong.
However, if there's one aspect that differentiates these restaurants, it's their imbecilic Twitter accounts. Presumably manned by some mousy-looking college intern who "loves interacting with the community," these Twitter accounts are about as interesting as the interiors of the restaurants that they represent.
But after following the accounts for Ruby Tuesday, T.G.I. Friday's, Chili's, and Applebee's, I want to give them credit for masking how annoyed their account owners are at being dealt such a bad hand in life. They all have mastered the craft of fake enthusiasm, pitch-perfect stock image selection to remind people that's not how their food will actually appear, and lots of creative uses of hashtags.
Here are my four favorite hand-tossed and mouth-watering restaurant Twitter accounts that make for a tasty follow. They're so bad, they're good—sort of like the food at these restaurants.
1) @Applebee's

Out of all five of the restaurants, I can't tell if this person genuinely likes their job or has taken the art of trolling to a casual and fun atmosphere. They're on a first name basis with their fans, guilt you into seeing you tomorrow, and can somehow relate back-to-school shopping with lemon shrimp fettucini. Also, a tweet based on lyrics from The Wanted deserves all the half-price apps in the world.
2) @Chili's Grill and Bar

The account really has three types of tweets: weird attempts at meme-vernacular, daily deals, and pictures of Paul Walker. The account's owner has also tried altering the only psalm I follow, "you only live once," to "You.Only.Lunch.Once a day," which is a disgusting attempt at pushing their liberal lunch agenda on America.
3) @RubyTuesday

This is the worst account, but also the greatest. The person behind it can't grasp the ideas of hashtags, asks questions that have the wrong answers if you're trying to bring in people to a restaurant, and posts weird Orson Welles quotes (he's no Paul Walker). The only thing that could save these lame tweets is if they were served on square plates with endless fries. Also, #steak.
4) @Sizzler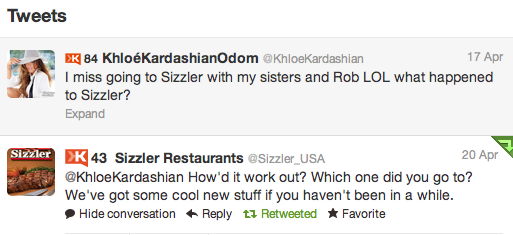 SIZZLER IS ALIVE AND WELL, KHLOÉ… just not on Twitter, as they haven't used it in over a year. Also, has anyone removed them from the list?
Photo via Chili's/Facebook