If you drew a Venn diagram of Hannart Hart, Grace Helbig, and Mamrie Hart, you'd have a delightful mix of alcohol, bad puns, YouTube, and roundly in the center, friendship.
On stage and on-screen, the popular vloggers have mastered the art of mixing business with pleasure. The three women often appear on each other's YouTube series, and with #NoFilter, they've taken their online success on the road.
"We all love each other very very much, and make sure to have each other's backs," notes Hannah Hart (no relation to Mamrie), backstage at the Gramercy Theatre in Manhattan, after another sold-out stop on the tour. "and I think that the foundation for the show was nothing but pure, unadulterated friendship."
The show, which Helbig describes as "80 percent scripted, 50 percent unscripted," jumps from prepared numbers to audience interaction segments, and spontaneous skits the attests to their background in improv comedy. They read YouTube comments, invite participants onstage, and interact with fans both real and virtual. This is one performance where the audience is encouraged to record.
"I just want to film this moment,"  the trio sings in their opening number.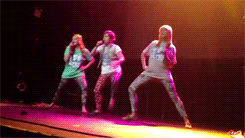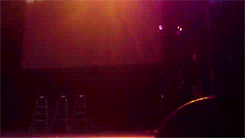 Photos via mydrunkhart/Tumblr
What's perhaps most notable about the show is the window it provides into real-world of YouTube. Along with Jenna Marbles, Hannah, Helbig, and Mamrie—or the "Amazing Trinity," as their fans call them—are the leading ladies on the Google-owned video-sharing network, with a combined audience that rivals that of some network television shows.  
Hannah, 26, gained her fame literally overnight, after knocking back a bottle of wine and filming what was intended to be the only episode ever released of My Drunk Kitchen, in which she attempts unsuccessfully to make grilled cheese. The series has become so popular since that IndieGoGo-funded tour, which served as the impetus for #NoFilter, its original $50,000 goal, as fans begged for her to take her act on the road, preferably near them.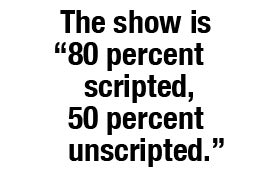 Helbig and Mamrie both entered the YouTube vlogging fray more deliberately than Hannah. The former is the 27-year-old star of the popular vlog Daily Grace, where she dishes comedy in lieu of advice and occasionally imitates famous people, while Mamrie (pronounced like "Mame") started her channel, You Deserve a Drink, just over two years ago and has seen her popularity steadily rise behind an endless stream of bawdy puns and creative cocktails gleaned from her 10 years of bartending on the side.
The trio's brand of comedy combines classic sketch-comedy techniques—Helbrig and Mamrie studied improv together six years ago in New York—with half-cultivated personas that are vehemently au naturel at any cost. Self-deprecation, social awkwardness, inappropriate drunkenness, and a semi-permanent state of inarticulation are all celebrated here.    
"She is one part French fries, two parts vodka," Hannah says about Helbig. It's a descriptor that could apply to any of them equally—at least while onstage.
What makes the show particularly unique is their collective embrace of fan culture. Hannah regularly read comments and welcome new viewers to her show, while both she and Mamrie can be found frequently reading and liking posts on Tumblr. For #NoFilter, they've found a way to transition that level of interaction to their routine.
For their grand finale, they slip into animal costume onesies and act out a piece of fanfiction—an original story written by a fan that imagines the three in different sexual relationships, in this case a piece that pairs Hannah and Hart together. There's no shortage of such material (see Hartbig, Hartsquared, Mace, Hartosexuals, Gracists).
Helbig recently told the Boston Globe that they had been "bewildered" by the phenomenon. She indicated that working the fanfic performance into the show had actually increased the amount of fanfic written about them.
At the Gramercy Theatre show, the reenactment stings, as Mamrie labeled this particular fanfiction a "really strange and never-going-to-happen relationship," an act that actually made its way back to the author of the piece and led to a personal apology from Mamrie.
"I don't know if it's good that we're supporting it or if it's bad," Helbig to the Globe, "but it's a good time."


Photo via feyminism/Tumblr
It's also smart marketing, part of an ongoing grassroots method of building their fanbase.
"There's a question we get asked a lot," says Hannah, "about what it's like to be a 'woman in comedy.'"
"Ugh," echoes Helbig.
"We don't see it as being 'a woman in comedy,'" says Hannah. "We see it as being ourselves and producing something entertaining."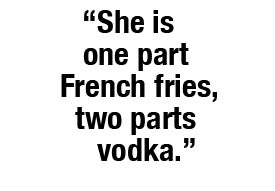 Helbig goes a step further. "It's much harder to be a man in comedy than to be a woman."
When I ask about the recent dustup over Good Morning America's portrayal of Jenna Marbles, they're quick to call it an overreaction.
"I think if it was Matt Lauer and NigaHiga, it wouldn't have been an issue," Hannah says.
"It was just a misunderstanding between two people who clearly didn't get along," Helbig says. "Like if you misquoted me, which won't happen, because we're BFFs."  
Hannah immediately darts forward to offer me an invisible friendship bracelet.
The gesture serves as a fitting reminder of what really binds these three women.
"It's always fun to sit offstage and hear one of us make a joke we haven't heard before," Hannah says.
"The best part of a show," Mamrie tells Hannah and Helbig, "is making you guys laugh, as much as, hopefully, everyone else."
"There's breathing room," Helbig replies. "It's so much fun."
Illustration by everafteralibis/Tumblr