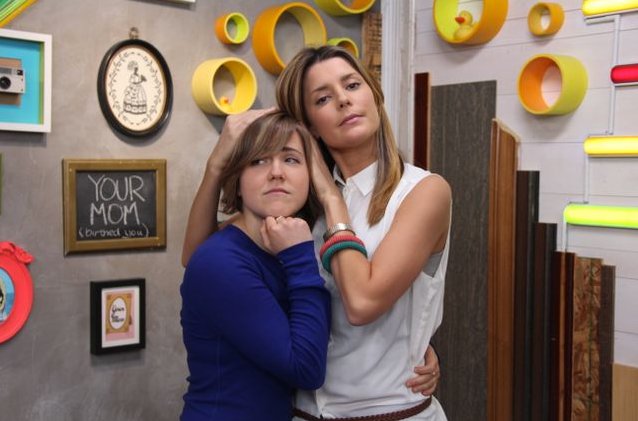 It's 82 degrees in Austin, Texas, and the hottest girl on YouTube is out drinking a 12 oz. canned Tecate beer on a picnic table's park bench.
"Hannah will probably wear this exact same leather jacket," Daily Grace namesake Grace Helbig tells me, tugging at her black coat, on the first Saturday of the annual South by Southwest conference. "Unless she's wearing the vest. If she's not wearing the vest then it might not be a great day for an interview.
"The vest and the plaid shirt. She's like Al Borland in heels."
We're talking about Hannah Hart because I'm about to scoot two miles across town and interview the YouTube star, the creator of My Drunk Kitchen who just raised $223,000 to travel around the world and meet thousands of her fans in their hometowns.
That interview's scheduled for 4pm, and Grace's ends well before that, so I head due west and stop into a bar near my next destination to grab a beer with a friend. Inside, the crowd upstairs is a mob scene, but through a row of people I manage to lock eyes with Hart, who's evidently a little early to our interview as well.
"Grace said you'd be wearing that vest and plaid combo," I tell her after I make my way to her. She smiles and tilts her head back softly.
"Aha, did she really?" Hannah asks. "She is such a bitch!"
…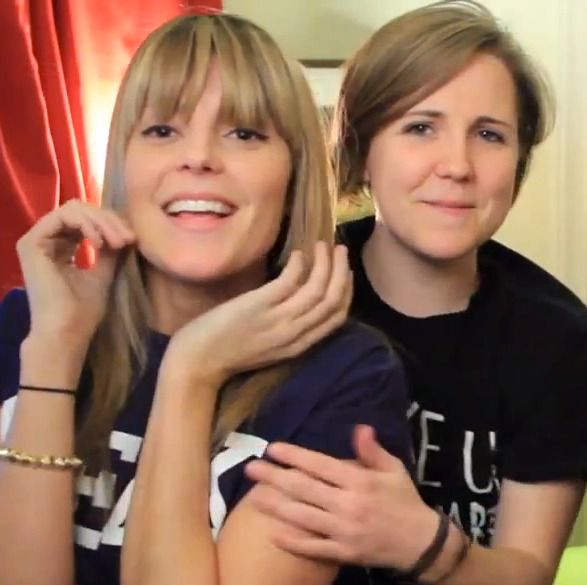 Hannah Hart and Grace Helbig are the Amy Poehler and Tina Fey of YouTube, two independent and ridiculously likeable stars who are both charming enough to make you want to ask them out to dinner and funny enough to make you spit up your drink. They cemented their standing as Best Friends For Life in November 2012, when the woman who turned Daily Grace into an online video empire packed up her tiny Brooklyn apartment and headed out for the sunny skies of Los Angeles and the on-air opportunities that accompanied them.
The two had known each other for years—they'd see each other at conventions and speak freely about their undying fondness for one another—but it wasn't until Helbig showed up out west that the two were able to do like friends do and actually, you know, hang out.
"She's a wonderfully caring person," Helbig said of Hart. "We've become really good friends in a really short amount of time. It's such an interesting, weird field that I think there's an underlying sense of camaraderie when you meet someone who does what you do."
The two's kinship extends into the social and accessorial sectors as well.
"We've synched up in more ways than just our periods," Helbig admitted. "We'll pick each other up and find out that we're wearing the same outfits. It's horrible."
Then there's the boozing, a pastime Hart's become quite synonymous with thanks to the success of her show, which comes out once a week and finds her cooking foods as she gets progressively drunker on whiskey, wine, or whatever other liquid lubricant she can find around her house. Hart says Helbig drinks as often as she can.
"She's a booze hound—one part vodka, two parks vodka."
As such, Helbig and Hart, along with You Deserve a Drink creator Mamrie Hart (no relation), have assembled a Femme Fatale comedy Rat Pack built to best terrorize the city of Los Angeles. They've appeared on each other's channels, brought laughs to topics that may have been otherwise dry, and generally kept things a little wilder than the three parties had originally intended.
"It's always nice to have friends in your field," Helbig said. "It's even better on YouTube. You can call them over at 2 o'clock in the afternoon and just say 'I'm going to turn this camera on,' and they don't mind. Then all hell breaks loose."
"I was in Grace's 'Sexy Friday' video the other day because we were hanging out and helping Mamrie with a show she was working on," Hart added. "Grace was like 'Hey, I still need to make the 'Sexy Friday' video. You guys want to help with that?' We were like, 'Yeah, sure, let's do that now and then we can get back to work.' Anytime I'm not feeling a Kitchen, I can call Grace and have her come through and help."
"It's not collaboration," Hart specified. "It's coworking. YouTube can be a very lonely place. You're in your living room, or your kitchen. You don't get to see people every day.
"[Epic Meal Time creator] Harley Morenstein said it best: 'Other YouTubers aren't my competitors. They're my colleagues."
…
Friendship is actually the way that both stars got started on YouTube.
Helbig, 27, started vlogging with her friend Michelle Vargas to pass the time while the two housesat for one of her parents' friends the summer after they'd graduated college.
Hart, who's a year younger and started producing episodes of her wildly beloved My Drunk Kitchen in 2011, filmed her first episode for the singular audience of her best friend.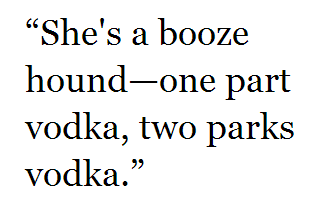 "I was just being myself and making jokes," she said. "I still try to trick myself into thinking that I'm making it for my best friend. In a way, I am. I'm just also making it for my fans."
Today, those fans number somewhere in the range of 500,000, making her one of the site's most popular female personalities.
She plans to thank those fans this April when she embarks on her two-month North American tour known as Hello, Harto!, an Indiegogo-funded road trip through 19 cities that will also include stops in Europe and Australia. Hart originally set out to raise $50,000 for the trip; she hit that goal in her first day on the site. After a month, Hart closed with $223,000.
"It's kind of like a Thank You tour where I get to go around and visit with the people in the cities that have supported me," she said. "I feel very lucky in that the Hartosexual community seems to be made up of people who are smart and funny and interesting and caring. I've only met fans of the show that I find interesting, and I feel privileged that I get to meet them, as well."
She said the tour will include a series of charity-related events where Hart sets up shop in each city.
"We ran an event at the L.A. food bank right before Christmas, and it was absolutely wild," she said. "We had over 150 people show up. We did three hours of manual labor, sorting carrots and potatoes and squash right before the holidays. That was really great. After that was such a success and I got to really interact with all the fans that came out, I decided that's what I wanted to do. I didn't want to do the meet up at bar thing or the comedy thing. It all felt too one-way. I want to spend time with people and do things that are important."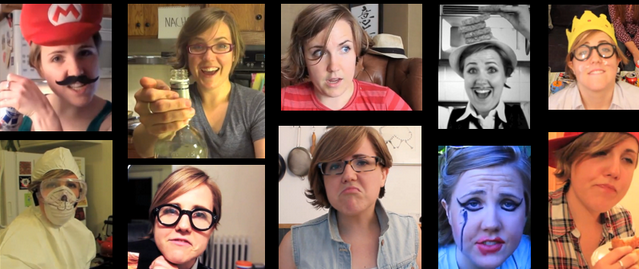 She said that she sees the Hello, Harto! tour as a culmination and final chapter in the My Drunk Kitchen saga.
"Two years, and it's literally one joke," she said. "I'll still do Harto, and maybe I'll expand the brand somewhere else, but where do you go from there? Where do you go after you've done a world tour to meet everybody who likes your show?"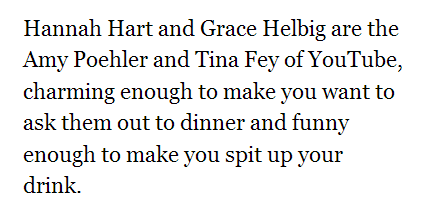 To those questions, Hart holds no answers.
"The present is so amazing," she said. "I feel so grateful that I don't even want to think about the future almost. This is a great moment to be in, and I want it to last forever. I just want it to be here, now."
Helbig has gone about procuring her popularity more professionally. She came to Austin with Subway, in promotion of the sandwich maker's Fresh Artists series with IFC and My Damn Channel, and she moved to Los Angeles just in time for pitch season, a move that foreshadows her inevitable crossover to television.
"TV has been my goal since before I started YouTube," she said. "Now my aim is starting a show of my own that has roots in the digital world. Everybody wants to know if TV and the Internet are going to make love to each other or fight each other to the death. I think they should make sweet, sweet love, and I'd like to make a show that starts the courtship."
Helbig said she felt an immediate sense of pride for her friend during the Hello, Harto! fundraiser—"I was so excited that I felt like I was raising the money myself," she said—but that touring's not her cross to bear.
"Amazon, Hulu, and Netflix are creating original content now," she added. "It's weird, but it's how things are going.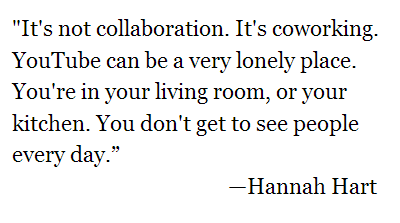 "A lot of YouTubers, because they have such pride in what they do, have a negative connotation towards television. I don't feel that way. I feel like it's another medium to reach a broader audience. I don't know if there will be one box that you watch, but I feel like it will all merge in someway, so it only makes sense for me to get into both pools before they become a lake."
Hart said there's nobody on YouTube more fit for the task of bridging the gap between the television and computer screen, and Helbig's accolades back it up. In the last two months, she's won Best Host and Best Hosted Series at January's IAWTV Awards and Best First Person Series and Audience Choice for Personality of the Year at last month's Streamys.
"The irons are hot," she said. "Let's make a fire."
Sounds great. Make it a Flaming Dr. Pepper.
Correction: An earlier version of this story incorrectly stated the ages of Hannah Hart and Grace Helbig. Hart is 26, and Helbig is 27. We regret the error. 
Photo via Julia Hoff/My Damn Channel