What do you get when you describe YouTube star Jenna Marbles, whose simple 'how to' viral videos have made her the most subscribed-to woman on YouTube, as a flash-in-the-pan viral sensation who only appeals to teens and makes videos "about nothing"?
You get the wrath of Hank Green, who lashed out viciously at Good Morning America earlier today via Tumblr after it aired a condescending interview segment implying that Marbles' success relied on good looks and a few gimmicks rather than on the clever writing and editing, comic timing, and subtle social commentary that her followers know well. 
In a blow-by-blow commentary, Green all-capped his way through the April 18 segment, calling it a "puffy hatchet job" and pointing out examples of the condescending and pejorative language and factual errors used by GMA in its attempts to dumb down Marbles' appeal and explain it to moms—the same moms, Green notes, who are already watching Jenna Marbles. Citing GMA's statement that Marbles makes videos about "nothing," Green explodes, "REALLY?! DID YOU WATCH ANY OF THE VIDEOS?!"
First, comedy doesn't have to be about something. But more importantly, Jenna's videos aren't about nothing, they're about culture and sexism and growing up. Hiding in amongst all that "nothing" are often poignant insights…. [GMA] completely misunderstands one one of the most influential and intelligent creators of media in America.
Good Morning America asks Marbles only two questions in the edited segment and spends more time critiquing her language than actually letting her talk. "I've lost count of the number of times you used 'ridiculous' in this interview," the interviewer comments at one point, implying that Marbles thinks her own videos are inane and unimportant. It then goes on to indicate that only teens and tweens are fans, and that most parents are scratching their heads in confusion over their kids' latest fad. 
In reality, while most of her audience is made up of teen girls, Marbles' 8 million subscribers and billion views don't fit into a single demographic.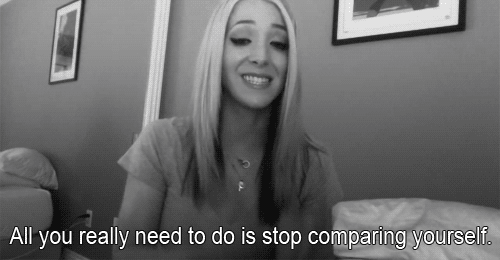 Photo via caitlynluboxoxo/Tumblr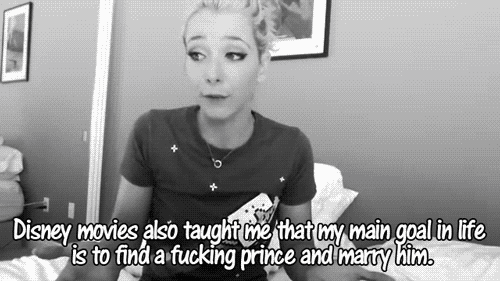 Photo via falling-insidetheblack/Tumblr
So when ABC interviewer Cecilia Vega asks Marbles if she "deserves" to have fans, it's not only an odd question to ask someone who's earning six figures a year and one that criticizes the interests of millions of young women. It's a question indicative of a lack of understanding on GMA's part about the nature of YouTube culture and community, as well as the creative savvy it takes to cultivate a fanbase the size of New York City in just under three years, using only a camera and yourself. "The only way to ask that question is if you, as an interviewer, have made your mind up that the person does NOT deserve their success," Green wrote.
And in the end, that's how the entire segment feels to me, a bunch of people making fun of a creator who they are threatened by and who they do not understand. And of course they're threatened by it, Jenna Marbles (on her own, with a cheap camera) can make a video that gets more [views] by more people than an episode of Good Morning America.
Green's own various Web video projects, especially his Vlogbrothers series with brother John Green, have garnered him a huge fan following of his own. Green, cofounder of VidCon with his brother, has long been an integral part of the YouTube community of vloggers. He's in a unique position to critique the marginalization of YouTube culture by mainstream media. 
GMA spent five minutes making fun of one of the most influential creators that exists in the world right now. But what's worse is they didn't criticize her for legitimate reasons, they made fun of her for NOT MATTERING…for not being important…for being a meaningless cultural blip that they're certain will just disappear. You wanna talk about something ridiculous…it's you GMA, not Jenna.
Perhaps this cultural disconnect is why Marbles herself has repeatedly rejected taking her own act onto more traditional media platforms. After all, when your current low-budget platform has gained you a personal fan following of millions, why mess with what's working? 
The hard part for mainstream media seems to be grasping exactly what it is about Marbles' format that works so well. A recent excellent interview and profile of Marbles, her successful business strategies, and her place within YouTube culture, was totally buried by the New York Times in its "Fashion and Style" section, as if the only thing that matters about Marbles' comedy and brand of wisdom is that a hot blonde chick once gave the world drunk makeup tips.
Marbles is by no means universally beloved; December's "Things I Don't Understand About Girls, Part 2: Slut Edition" caused a furor for slut-shaming, and she has often taken heat for controversial statements and parodies of celebrities like Nicki Minaj. But her frank, unassuming persona has clearly made waves among her viewers; cruise the Jenna Marbles tag on any social network and you'll see endless variations of, "I relate to her so hard," "She is me," and "I could watch her videos all day."
When's the last time you heard anyone say that about Good Morning America?
Photo via JennaMarbles/YouTube