Halloween is right around the corner. Like every year, parties and neighborhood sidewalks will be crawling with horror icons, superheroes, and sexy versions of both. Whether costumes are clever or standard, most of them fail to represent an oft-overlooked genre of popularity: Internet memes.
The irony, of course, is that memes like Bad Luck Brian and Scumbag Steve didn't chose their Internet fame. They just had to learn to deal with it. And now you can know what it's like to walk a mile—or at least door to door—in their shoes.
Meme costumes are inspiring, original, and can usually be made with materials you may already have lying around your house. The Daily Dot have gathered together some of the year's most popular memes and, thanks to the magic of Photoshop, have assembled outfits that can successfully recreate your favorite familiar personas.
Of course, this is by no means a complete list. Use your imagination or, better yet, write to us with your suggestions!
Bad Luck Brian
If every Halloween so far has brought you nothing but painful memories, perhaps dressing as Bad Luck Brian will be oddly appropriate for you.
First, you must cover yourself in Brian's trademark flannel. Pair a red-and-black flannel vest  with a light blue collared shirt. In doing so, you will achieve Brian's Catholic-elementary-school-uniform look, where Brian's perfection begins and ends.
If you don't have braces of your own, you can always go in for some pricey, non-essential dental work. Or, you can find a pair of fake braces to help you get Brian's idealistic grin down pat.
Cap it all off with a short blond wig that can be easily styled into Brian's perfectly parted hair.
Finally, go to Halloween party… and have everyone laugh at you.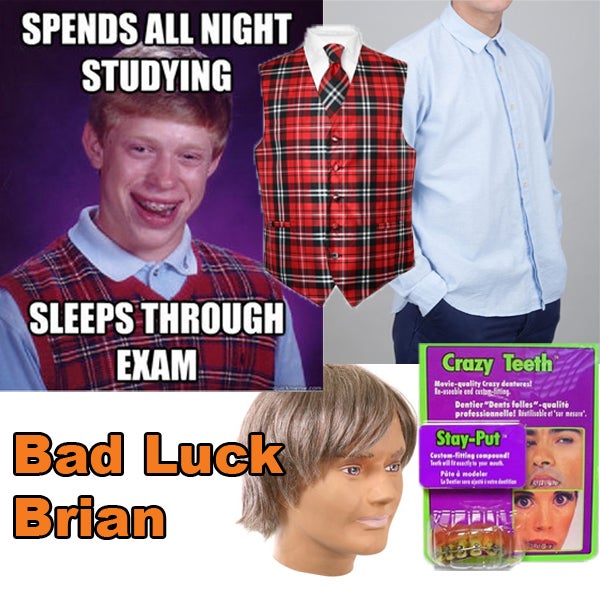 Binder Full of Women
The now-famous comment, uttered by Mitt Romney during the second presidential debate on Oct. 16, became a meme within minutes. In a post on Her Campus, Julia Angley details how women can opt out of Halloween's traditional "sexy" trend and instead go as a literal binder filled with a woman.
Using just a few pieces of heavy-duty cardboard and colored duct tape, cover up your torso and visualize life as an actual woman in a binder.
Botched Jesus Painting
This costume is abnormally easy to create, provided you look like Jesus and don't mind applying a belt sander to your face.
Since some people may take issue with such a measure, we have come up with other options. Obviously, the clothing is the simplest part; a black shirt or tunic is all you need.
As for the face itself, from the smudged features to the vertical eyeballs, a handmade mask will be necessary. The Daily Dot interviewed several webcomic artists during late September's Intervention Con to get a bit of artistic input.
"I would actually like to see a 3D version, like a full face cast. You could use clay or papier-mache to apply the additions and get the wrong shape of the head. For the features, definitely use brushes to mimic the actual painting's brushstrokes. That's the best way to make it look accurate."
—Kara Dennison, creator of Con Screw
"Definitely use paint to make it look the most authentic. I would actually use my fingers to recreate the messed-up parts. For the mask itself, I suggest matte board for maximum sturdiness."
—Emily Gillis, creator of Jikoshia
"I would use flat cardboard because of the flat tones of the image. Maybe spray paint the background or even find paper that is similar to the color of the skin. I would hand-paint the details in mostly one color or a few limited shades. Use markers for the black parts of the eyes, something with a fine tip."
—Greg Ulchin, creator of Intravenous Caffeine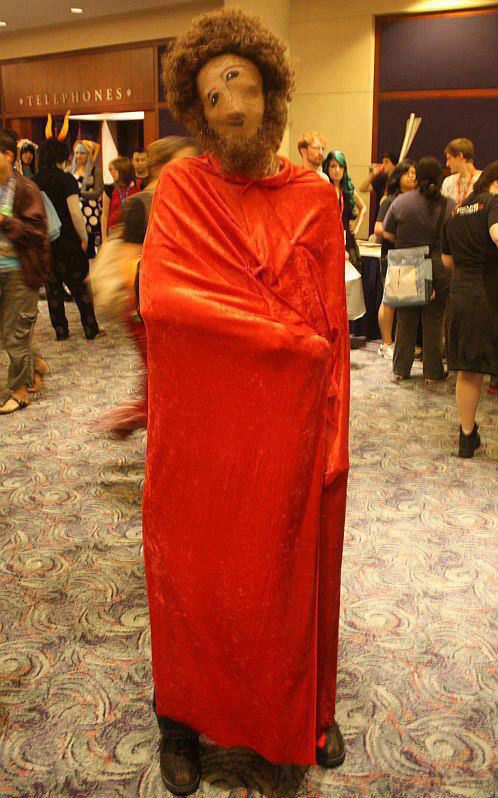 Photo via WeKnowMemes
College Liberal Girl
A zip-up, thin orange hoodie is the only attire you'll need to pull off College Liberal Girl's dress style. If you're trying to capture the essence of the meme, it's best that you shop for that hoodie at the Gap or American Apparel, as opposed to pawing through the bins at your local thrift shop.
If you have long brown hair already, braid it into dreadlocks for CLG's hippie-tastic mane. If your hairstyle is wildly different, however, dreadlock wigs can be found almost anywhere that sells costume accessories. Be sure to select a light brown color. Avoid black.
Finally, accessorize with wire-frame glasses and a colorful knit cap.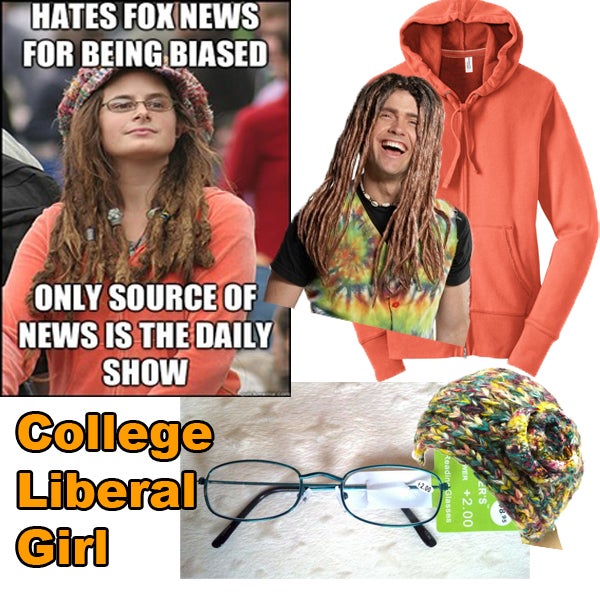 Ermahgerd
If your goal is to be the most annoying character at your party, look no further than dressing up as the retainer-sporting, book-loving 1990s youngster embodied by the Ermahgerd meme.
The best place to find her outfit, if you're looking for a perfect replica, is 1992. If you are without a time machine at the moment, you will have to improvise. Fortunately, the white pants are still in widespread production. A light gray sweatshirt (or even pajama shirt) should accompany the pants; if you can find one with the lamb/sheep pattern, then you win bonus points. A scout vest works the best when creating the top layer; use your artistic skills (or lack thereof) to make a plain tan vest truly ugly, '90s style.
Those of you with longer hair should tie it into pigtails. In place of a retainer, we suggest a mouthguard, which can be purchased from almost any sporting goods store.
Finally, choose three of your favorite Gersberms books, still sold at most bookstores, to complete the look. If you prefer, you can substitute other items to tote around, such as mershed perderders or flerp flerps.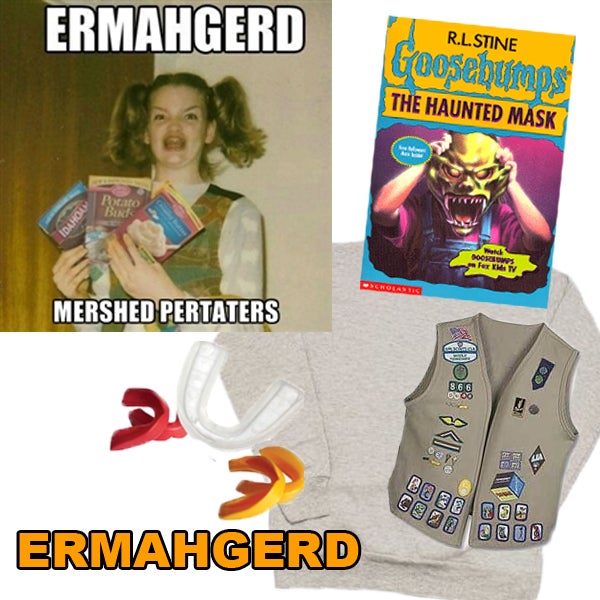 Friend Zone Johnny
You might not be able to get a date, but with a few common items, you can get a Friend Zone Johnny shirt. You will strut into your party and girls from every corner of the room will swarm you. Granted, they will leave once the line for the men's room dissipates, but you can revel in the moment.
A striped black jacket and dark purple V-neck shirt are your only necessary clothing items for effectively bringing together the semi-pathetic look that makes Johnny a magnet for friendly hugs. Accessorize with a silver crucifix necklace, which subtly remarks on the suffering you've endured since puberty first struck.
Finally, make sure you are toting around a bouquet of cheap flowers (available at most supermarkets) and pack of Twizzlers. After all, carnations and licorice have to work on somebody one of these days!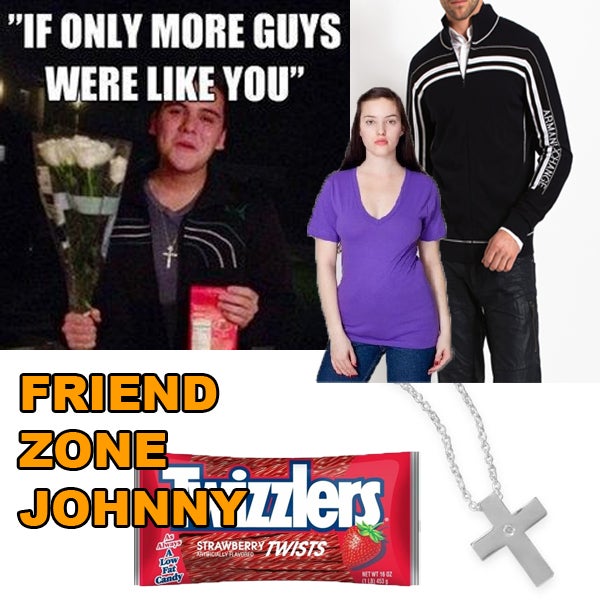 Homestuck
If you have been at any fan convention in the past year, you have already noticed that the Homestuck webcomic is wildly popular. Spiky, colorful wigs and Japanese school uniforms used to enjoy little competition on the con floor. Now, they are heavily complemented (though not yet outnumbered) by the noticeable gray skin, jet black hair, and colorful horns of Homestuck characters.
As its representation in the world of cosplay rose, so did the number of sites that instructed users to create their own costumes. Many helpful blog entries are displayed under the Tumblr tag "Homestuck tutorial."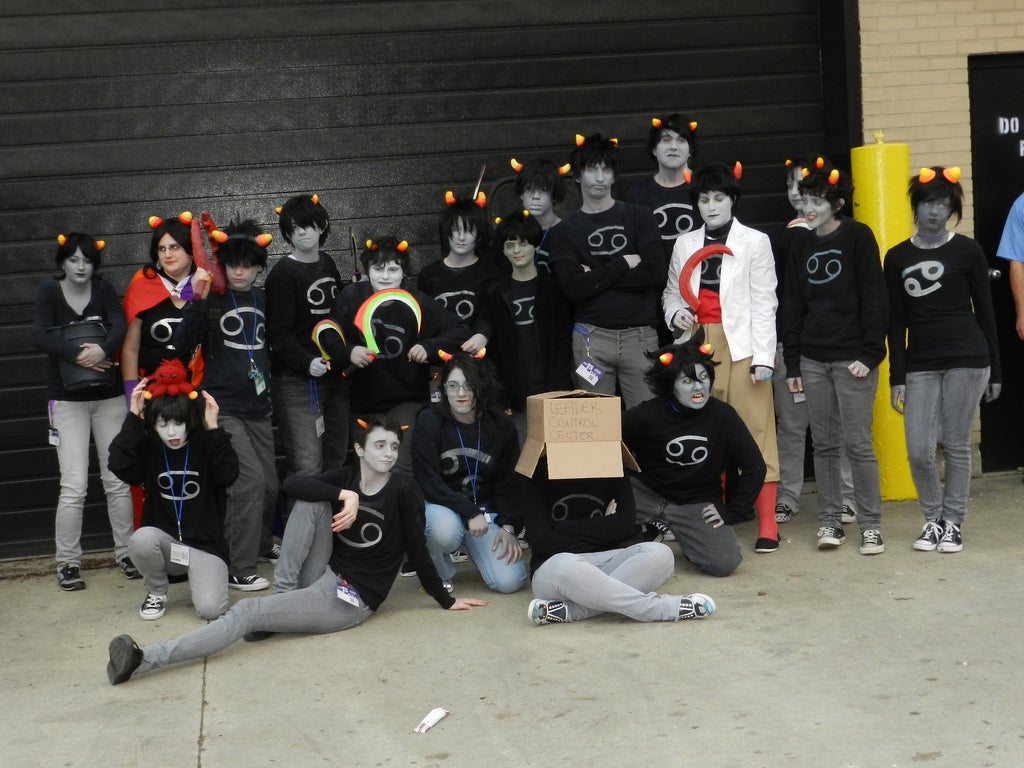 Photo via sdwbean/Flickr
Honey Boo Boo
Why be a run-of-the-mill princess or ballerina? Why not instead be an overly pampered reality TV star with a loose grasp on the English language?
Honey Boo-Boo's style is precisely that of her equally overly-pampered Toddlers & Tiaras co-stars. You will want a frilly pink dress, coupled with an expansive tutu, capping your blond wig off with, of course, a tiara.
Finally, start drinking tons of "Go Go Juice" RIGHT NOW.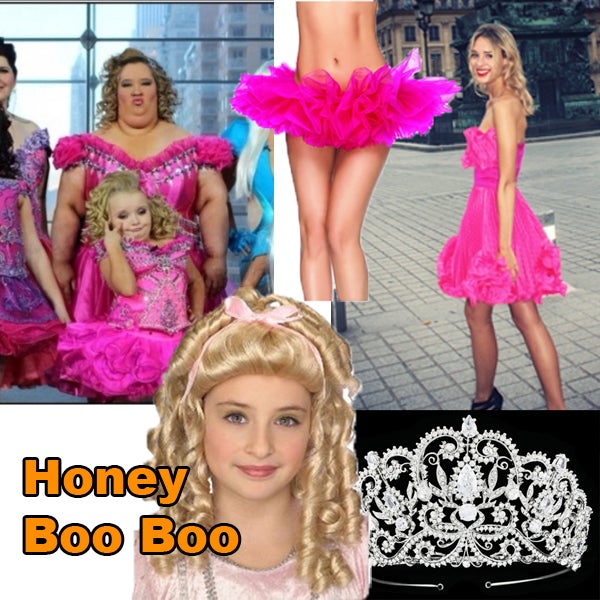 New Jersey Tanning Mom
There are a number of ways you can go about replicating the visage of the suburban New Jersey mother who made headlines for taking her 6-year-old to the tanning salon. Obviously, you yourself can lie in a tanning bed all day for roughly three to four weeks to achieve an authentic look.
If a Hallomeme costume isn't worth a skin cancer risk, however, there are alternatives. Perhaps the most effective is orange or crimson face paint.
A bleached blonde wig is also necessary to perfect the "aging suburban mom desperately clinging to her youth through salon materials" essence.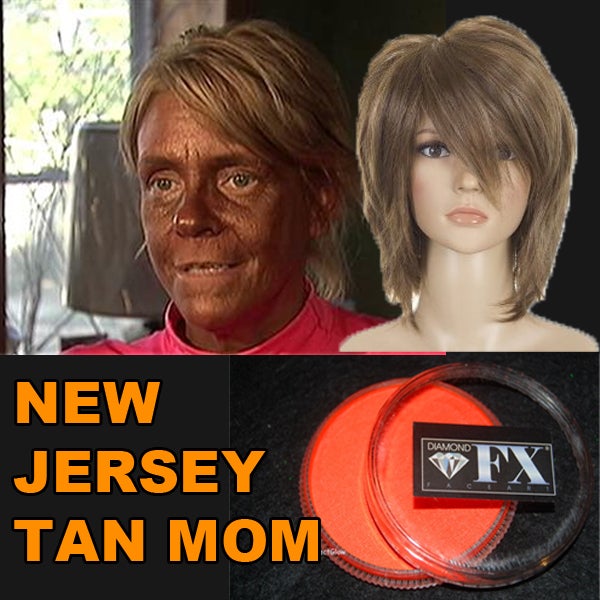 Overly Attached Girlfriend
One of the simplest meme costumes, dressing as the Overly Attached Girlfriend, requires nothing more than a light blue crew-neck shirt and a jet black wig.
The true genius to this costume lies in the OAG's famous buggy eyes, a facial feature that hasn't been widely used since Rodney Dangerfield passed away. You will want to pop your eyes open past the "normal" and even "surprise/interested" levels. You will want to make your eyelids disappear entirely and open your eyes all the way to the "clinically insane, likely dangerous" level.
Be sure to have a boyfriend, too.
Overly Attached Girlfriend's signature blue and black hair are easy to replicate. Cap it off with a cap professing your love for Justin Bieber for extra panache.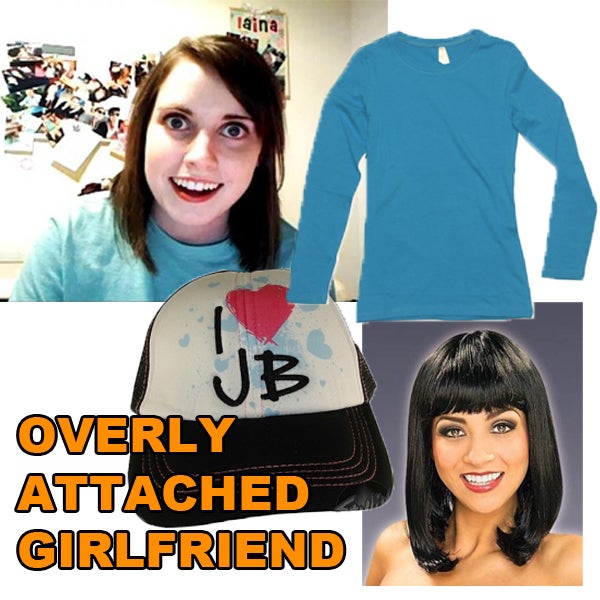 Texting Hillary
While masks of the former First Lady were much more prevalent during her husband's presidential tenure, they can still be found at many costume stores. Her recent work in the Obama administration has ensured a continued longevity.
Add a pair of sunglasses and carry your cell phone around with you at all times to complete the look. If anyone asks you what you are busy texting, make sure your response of "Oh, just saving the world" or "Oh, just ensuring Obama's re-election" is dripping with monotony.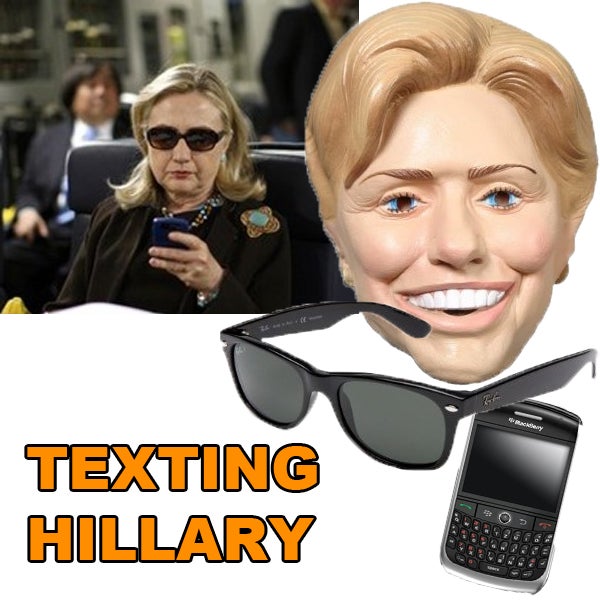 Photoshop magic by Lindsey Weber