After taking flak from gossip blogs and One Direction fans, Hailie Mathers, repentant scourge of Taylor Swift, deleted her Twitter account. 
"OK so I'm deactivating my account now … The media is BS," Mathers—or the Twitter user posing as Eminem's teenage daughter—tweeted at noon ET. A few minutes later, her @hailiejade_x Twitter profile, which had 37,000 followers, disappeared.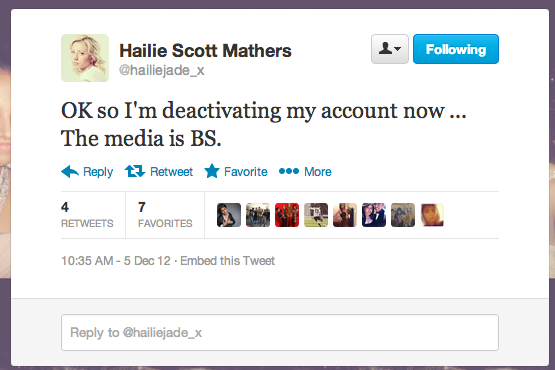 Her Facebook profile is still active, however, despite no recent updates since late November.
The account that allegedly belonged to Eminem's social media–savvy daughter first tweeted disapproval of Taylor Swift's rumored relationship with walking Topman peacoat (and One Direction singer) Harry Styles on Tuesday. 
@hailiejade_x's  profile doubled in followers, but at a cost: She'd enraged the fleet of One Direction fans, who barraged her with expletive-laden tweets.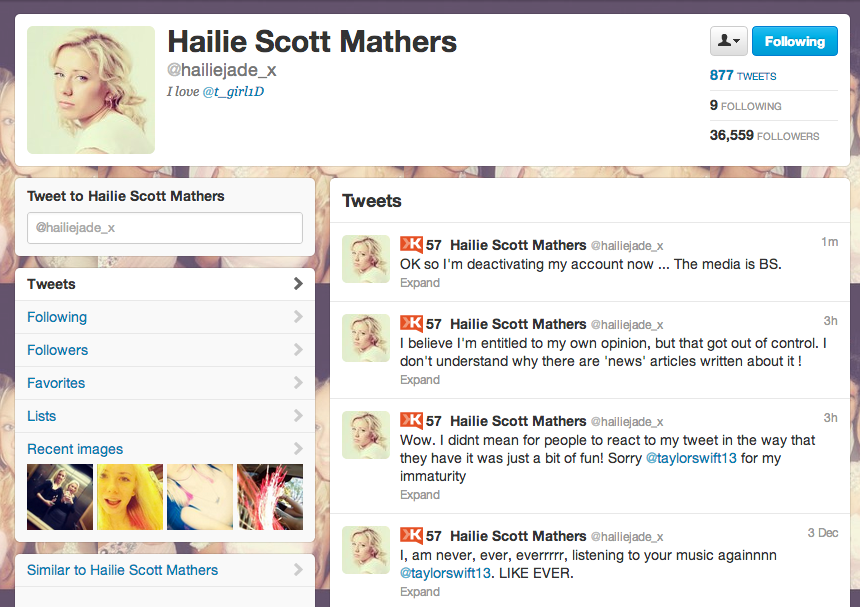 We've collected a sampling—some measured and mature, others a bit more reactionary:
CORRECTION: In a statement to E! News, a representative for Eminem said that the rapper's teenage daughter was not actually behind @hailiejade_x. The account has been deleted, but Facebook and Instagram accounts associated with it remain active.
Photo via Hailie Jade Scott Mathers/Facebook