Does your only working knowledge of Groundhog Day come from a repetitive Bill Murray movie?
If so, that is about to change. While the 1993 film Groundhog Day recreated the annual celebration to a fair degree, it of course wasn't 100 percent accurate or inclusive. Thanks to YouTube, attendees of the actual Feb. 2 celebration in the small town of Punxsutawney, Penn., have been able to share their in-person experiences with viewers worldwide.
We here at the Daily Dot have pieced together the most memorable parts of Groundhog Day in GIF form to tell the story of the beloved furry prognosticator, Punxsutawney Phil.
Punxsutawney Phil's main home is a far cry from the Gobbler's Knob tree stump bearing his name. During the other 364 days per year, Phil and his family (yes, he has a family) reside in "Phil's Burrow," located just off of Barclay Square in downtown Punxsutawney. The enclosure is adjacent to the town's library and can be viewed from street level when the library is closed.
The Groundhog Day movie gave the impression that Gobbler's Knob was located in the center of Punxsutawney, an easy walk from almost anywhere in town. The real Gobbler's Knob is actually located in a heavily wooded area just outside of the city limits, with buses and passenger cars ferrying in partiers. The stage and tree stump can be viewed year-round.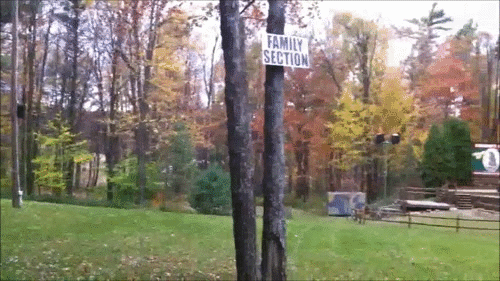 If you plan to visit Gobbler's Knob on Feb. 2, you certainly won't be alone. Tens of thousands of fellow visitors will squeeze into the vicinity; this figure easily dwarfs the number of total residents in not only Punxsutawney, but all of Jefferson County.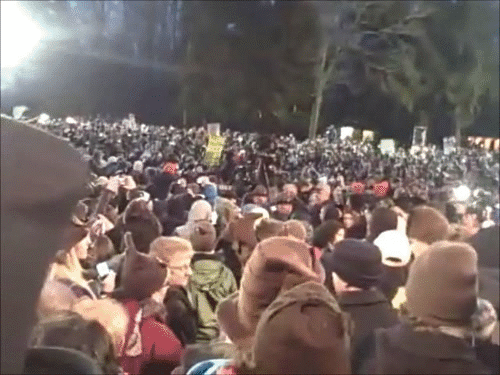 While Punxsutawney Phil is the star of the show, he isn't on hand throughout the entire celebration. Crowds pack into Gobbler's Knob throughout the night. Everything from live music to dancers to even birthday announcements keep the ever-growing crowd entertained until Phil emerges from his hole.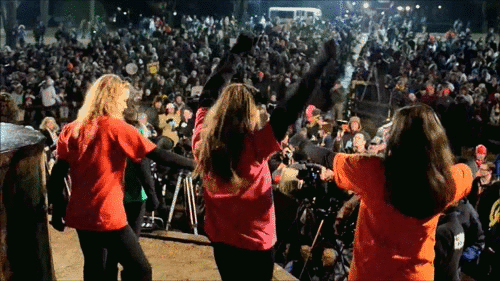 The "Inner Circle" is a group of local dignitaries who not only plan and execute each year's Groundhog Day event, but also care for Phil and his family in the off-season. They are instantly recognizable by their tuxedos and top hats and given a rock star's welcome when they arrive at Gobbler's Knob early on Feb. 2.
Interestingly enough, Punxsutawney Phil doesn't sit in the lap of luxury, even on his special day. Instead, he is transported to Gobbler's Knob in a small cage and spends only a brief period of time inside the tree stump that bears his name.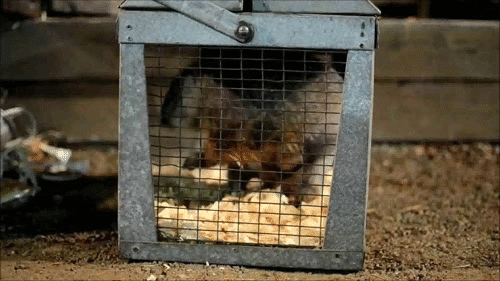 Second only to his famous prediction, a huge moment of Groundhog Day is when Phil is removed from his temporary lodging and presented to the crowd. His co-handlers make sure to hold him high for the massive crowd to see.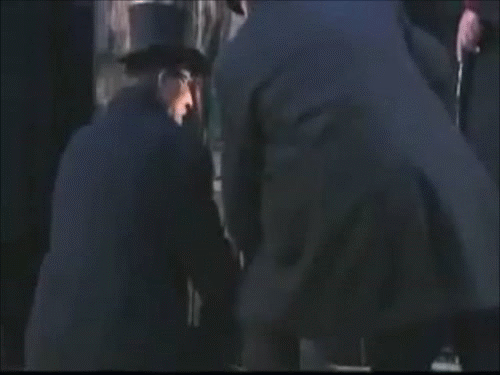 After Phil is revealed, his co-handlers communicate with him in the secret language of "Groundhog-ese." His various chirps and chitters are interpreted as an acknowledgement of his shadow—or the far-more anticipated early spring.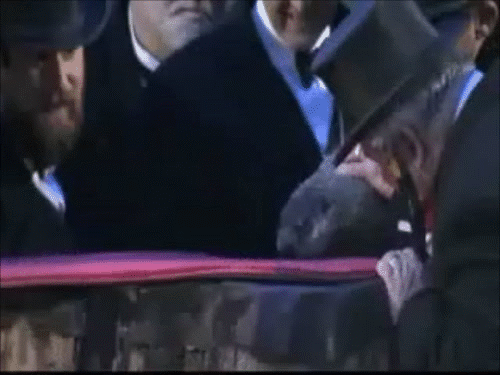 After the annual "Groundhog-ese" banter has concluded, members of the Inner Circle will read Phil's prediction from a scroll. Overflowing with jokes and puns, the proclamation will always end with either the dreaded "six more weeks of winter" prediction or the promise of an early spring.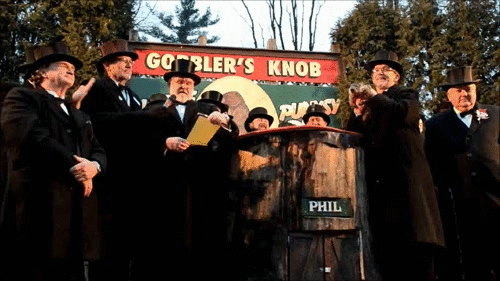 So keep an eye out for these traditional sights during tomorrow's big ceremony. And if it turns out we're in for six more weeks of winter? Well, you can pop in that old Bill Murray movie and hide, just like Phil.
Photo via Aaron Silvers/Flickr
GIF source video via ThePennIUP, Krsnik666, ManessAlexander, surfinginoklahoma, dailycollegian, and purpleboot777/YouTube