Thanks to a game update last week, the Kim Kardashian: Hollywood universe joined 26 proud states and the District of Columbia in the legal recognition of gay marriage. Yes, civil rights pioneer Kim Kardashian, who was ruthlessly scorned for her 72-day union to Kris Humphries, made her contribution to furthering the cause of same sex marriage with an expansion of her popular game last week. 
Last Wednesday, developer Glu Mobile officially unveiled a 2.0 version of its $200 million game Kim Kardashian: Hollywood. With the update, users can play on Facebook, travel to Florence, Italy, and most importantly, betroth themselves to their beloved. While the update's release was given the standard press coverage, the true story was lurking on Kim's Instagram. 
You can now get married 👬#KimKardashianGame
On Monday, Kardashian posted an animated version of herself posing alongside a gay couple with dangerously high cheekbones. The momentous stride for civil rights was simply captioned with an emoji of two men holding hands, and the words "You can now get married #KimKardashianGame." So, as a gay man who wrote the definitive guide to hacking Kim Kardashian: Hollywood, what else was I to do but tie the virtual knot, for the sake of both civil rights and journalism?
Finding Mr. Right
Not unlike a Taylor Swift song, my love story began with a quick Google search of "How to get married in the Kim Kardashian game." My digging over at ChapterCheats.com revealed that after completing a string of successful dates, the L-word would be spoken, proposals would be made, and wedding bells would be ringing. Equipped with that sage guidance, my journey to the altar would be complete in only half an hour.  
I had to ditch my current squeeze, EJ, in favor of a silver fox named Luis King who I had met at some club or launch party. Despite the fact that the occupational therapist was only a C-list celebrity, Luis's thick mane of silver hair implied he was at an age where he'd like to settle down—or at the very least, share my A-list healthcare benefits. 
Though we had only been dating for five minutes, we were already swapping "I love you"s like high school sweethearts. What some called a whirlwind courtship, we called destiny, and after completing three more dates, a screen appeared that allowed me to pop the question. After tapping the "Propose" button on my iPad, I waited with bated breath. The seconds passed like hours as he contemplated if he would like to join me in becoming Mr. and Mr. George Glass, but thankfully, the answer was a resounding yes. 
The wedding
News of my engagement spread through the Kardashian Kosmos faster than leaked celebrity nudes, and soon I was at Kim's palatial Beverly Hills mansion to share the exciting news. After forcing me to swear "Bible" on my engagement, Kim dispensed with her wisdom of love and acceptance in the age of celebrity. "Marrying the person you love—gay, straight, or whatever!—is all that matters," she opined in a bust-flattering black crop top and zebra skirt.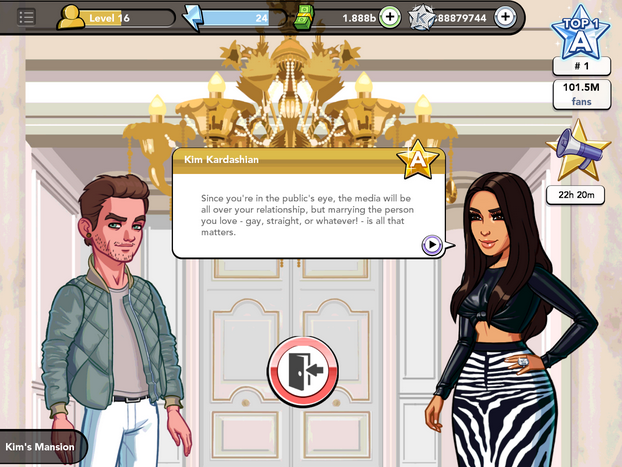 With Kim's blessing, I departed to Italy to commence with the courtship. But what's a gay wedding without drama? No sooner had I arrived in Florence than a bidding war broke out for the wedding venue with a rival celebrity couple. After producing the $7,500 deposit, wedding planner Rupert Ambrose ensured me I made the right choice by touting Florence as the hottest wedding destination. "Ever since Kim Kardashian West's wedding, Florence seems to be the IT place to get married," he bragged, as I realized my vows would forever be shadowed by hers.
Resigned to that chilling fact, I began decorating for the occasion by adorning the venue with a flower wall reminiscent of the one at Kimye's nuptials, when disaster struck again. This time, it was rumors of a cheating fiancé that required a string of three successive dates to dispel. With the circus surrounding Luis's and my pending matrimony was growing only larger by the minute, it seemed like gay marriage might be more of a hassle than it's worth. 
Yet, that brief lapse in judgment was soon eclipsed by the joy that came with lovingly pressing the "I do" button on my screen. And just like that, quicker than a ride through the drive-thru wedding chapel in Vegas, we were hitched. Luis didn't even bother to change out of his burnt umber button down for the occasion, but that's only because love doesn't have a dress code. Or perhaps the game engineers designed him to be passé about love as 21st-century construct of ownership.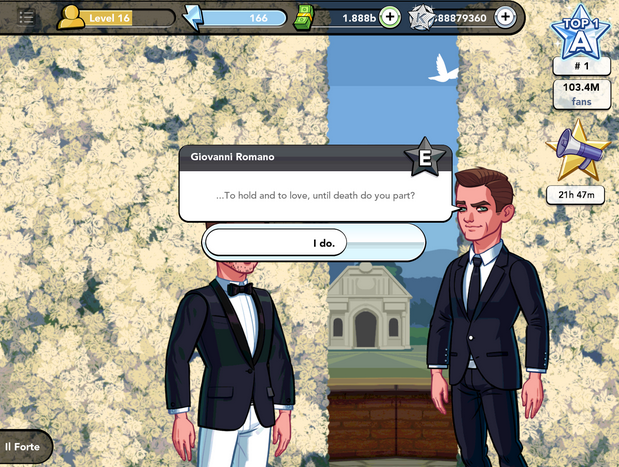 Ultimately, there are no great civil rights revelations to be unlocked in Kim Kardashian: Hollywood. If that was the case, I would fear more the future of humanity than I would for the future of same-sex marriage. If anything, playing the game is more of a cautionary tale against celebrity weddings than homosexuality. 
Between battling over wedding venues with rival celebrity couples, dispelling rumors of cheating, and picking which magazine will run your wedding photos, the entire process is as exhaustive as watching Kris Jenner try to act normal at a Forever 21. While gay marriage in a video game is exciting, the fact that Kim legitimized same sex marriage before the U.S. is a fact we should be ashamed of, rather than flaunt. Yet, while we wait for the scales to tip in favor of acceptance, let's enjoy the frivolity of gay video game marriage while we can.