The day Marvel fans have begged for has come at last: Deadpool finally has his own movie.
After a sneak reveal of test footage and a viral Twitter fan campaign earlier this summer, Fox, which owns the film rights to Deadpool, announced Thursday that the Merc with a Mouth would be coming to theaters in 2016.
The unpredictable, snark-loving anti-hero has become a cult phenomenon since he first appeared on the scene in 1991, largely due to his satirical role in the Marvel-verse and his increasing popularity as an eminently GIF-able cosplay character.
Earlier this summer, leaked test footage of a possible Deadpool film galvanized the fanbase. Directed by Tim Miller, the footage featured Ryan Reynolds, who previously portrayed the character in 2009's X-Men Origins: Wolverine. Though Fox didn't make it official, Miller and Reynolds will almost certainly be helming the project after the test footage drew raves from pretty much everyone ever. 
The announcement came as part of a casual reshuffling of many of the films other titles, including pushing the adaptation of John Green's Paper Towns up to June 19, 2015, and moving Fantastic Four into an Aug. 9, 2015 slot. The film adaptation of hit gaming franchise Assassin's Creed will be pushed back to 2016.
The chaotic state of Marvel's film rights means that Deadpool won't be hanging out with some of his more famous companions from the comics, including Spider-Man and Daredevil, which means sadly we won't be getting the film equivalent of this: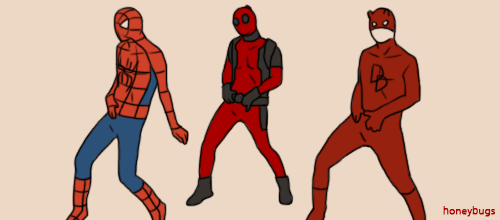 GIF via honey-bugs/Tumblr
But he'll almost certainly have a few laughs with long-time pal Cable, and perhaps even a few other members of the X-Men and the Fantastic Four.
While the movie is obviously very much in the development stages, the mere fact that it's a Deadpool movie is enough to have most of us celebrating like a mercenary with a lifetime supply of chimichangas.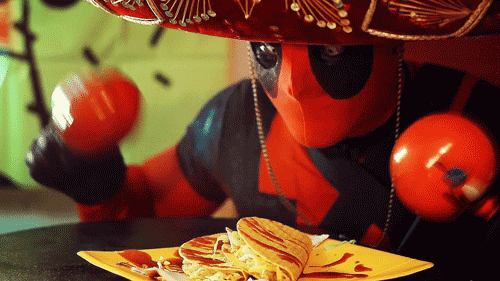 GIF via mercwiththetacos/Tumblr
H/T Variety | Photo via dashupagla/Flickr (CC BY SA 2.0)