Spotify is huge. It is a mind-boggling big database of music; at last count, the service was home to more than 20 million songs, and was adding 20,000 a day. Despite it's impressive user numbers (6 million, at last report), that's just simply too much music to listen to. It's overwhelming. I remember walking into music shops (back in the day, when I rode my horse walked there through five feet of snow) and being taken aback by the sheer amount of variety before me. There was no way I could pour through all of this to discover a hidden gem. 
Spotify is like walking into a WalMart-sized music store and trying to accomplish this. 
Enter Forgotify: it's a Web app that has compiled 4 million songs (that's 20 percent of its catalog) that have never gotten a Spotify listen. The songs for whom no one has press play—til now. "We set out to give these neglected songs another way to reach your ear holes," the team explains on its site.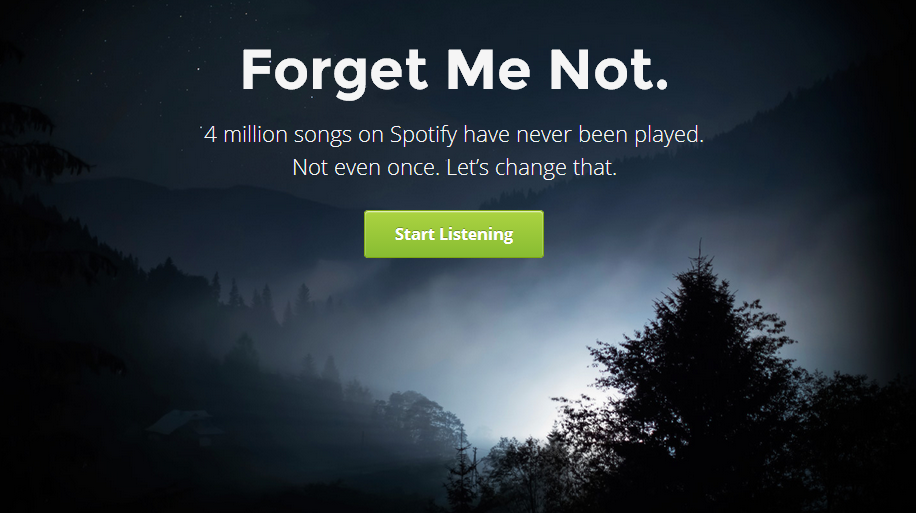 So naturally, my morning was spent browsing all that I've beeing Spoti-missing. Welcome to the weird and wonderful black hole of Spotify—it's very own Island of Misfit Music. 
1. Right off the bat, a title I recognize. 
2. I admit that a song titled "?????" gets on any list I'm making. 
3. Oh man, flashbacks to my High School obsession with Jesus Christ Superstar and Godspell right here.
4. Sing it, Carroll. 
5. This is some silky smooth jazz and I'm going to pretend it was written for Blue Ivy. 
6. Yeah, five seconds… OF GENIUS.
7. I think the title pretty much says it all. 
8. This sort of reminds me of when someone a little down on their luck gets up to do karaoke and everyone's like "Am I enjoying this? I don't really know…" 
9. Upon first listen, you will likely be terrified. But you'll come around. 
10. Country livin' never sounded so great nor so stereotypical. 
10. Because "Zeebras."
11. What in the hell!? A Louis Armstrong song available on Spotify has never been listened to? We've failed you, music. Accept my apology on behalf of all humans. 
12. This is like angry, indecipherable Sublime. 
13. Try and tell me this isn't just plain fun. If you just tried, I call BS. It reminds me of The Wonder Years theme song, which the world universally loves.
Photo via Thompson Rivers University/Flickr