Angelina Jolie's ambitious, much-anticipated Netflix original First They Killed My Father isn't quite sure of what it should be. On the one hand, there's a well-shot story of tremendous hardship and survival through unceasing horrors. It's about children suddenly made adults before their time.
On the other, there's a complicated history serving as a foundation, where the viewer has an opportunity to understand the uniqueness of the Khmer Rouge's cruelties. The Cambodian community party, led by Pol Pot, committed devastating human rights atrocities while in power from the '60s to the '90s. Too bad you need a Wikipedia article for context before streaming this thing.
Widely missing the mark, a compelling story wrenches through the wash as unclear as it began. Tantamount to something just above trauma porn, First They Killed My Father is drenched in arbitrary violence, and with minimal context as to why violence was the answer.
The project is built around co-writer Loung Ung's harrowing memoir. The author was 7 years old at the start of the genocide, and living a normal childhood with her upper-middle-class family in Phnom Penh. Raised a child of a government-employed father, what was her protection and safety would quickly become a liability as the Khmer Rouge communists began seeking out officials.
Sareum Srey Moch, the young Cambodian talent, amazingly fills her role as Loung, though the casting for the role itself by Jolie has been labeled as exploitative, at best. (Her team reportedly told child actors to channel their real-life trauma into their auditions.)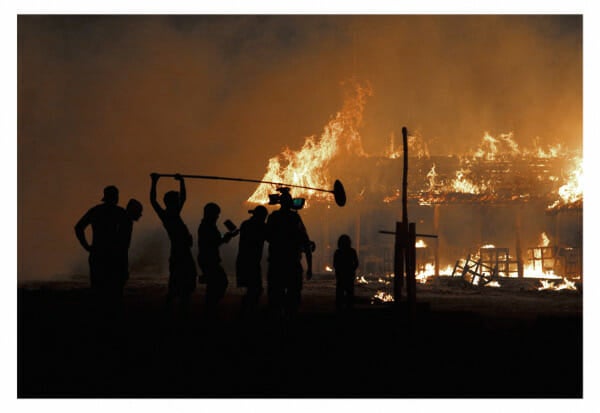 The stark shift from comfortable to desperate through young Loung's eyes is steep. Her fears are tangible on film. The problem is that Jolie provides little separation from Ung's stories to those of similar regimes in Africa, or South America, or anywhere else in the world, really.
In one troubling scene, young Loung steps through a bloody minefield. Bodies are strewn around, mortally wounded, bleeding out, or crawling forward with missing limbs. She steps carefully around the mines and the dead. Fraught with understandably blinding fear, victims run through the field, choosing the mine roulette over the oncoming bullets. Young Loung shows bravery, and also quick thinking under literal fire. It's this type of reigning chaos that moves the film along, as our protagonist becomes groomed as a child soldier in the civil war.
Though the book fills in pertinent details for those inquiring, Jolie's fourth film as director partially flattens out the existence of its protagonist. The effect is admittedly moving, as Loung's story becomes representative of all in front of the regime's gun. It's not a subtle breakdown that chooses to explore political motivations, and that's its chilling message about Cambodia in the '70s: Reduced to surviving, you're either the terrorist or the terrorized.