The backlash against Ridley Scott's Exodus: Gods and Kings is gathering momentum. After Noah's mixed reception earlier this year, it seems that more and more people are sick of seeing Hollywood movies with "whitewashed" casts: White actors being hired to play historical figures who almost certainly were not white.
As the publicity campaign for Exodus ramped up, so did complaints on social media. Recently, many of them pointed out the racist subtext of casting white actors to play kings and prophets while black actors were cast in minor roles like "Egyptian thief."
I just let out the loudest cackle. Oh. Hollywood pic.twitter.com/otchhdj36e

— DarkSkintDostoyevsky (@daniecal) July 27, 2014
The latest accusation of Exodus whitewashing relates to someone who technically isn't even a character: the Sphinx.
With an Exodus set photo that has now been retweeted over 800 times, Twitter user @BlackNerdJade pointed that in the movie, this Egyptian statue has oddly European facial features.
One of the craziest shits w/ this Exodus film is they changed the profiles of the sphinx to have European profiles pic.twitter.com/tvKnNDtqMY

— 왕비마마 (@BlackNerdJade) July 28, 2014
Now, it's not clear whether this is actually the Great Sphinx of Giza, or even a sphinx statue at all. It may well just be a head. However, it's definitely a statue that is being built in Egypt during the time of the movie, sometime around 1250 BCE. For comparison, here's a real statue of Ramses II, who in Exodus: Gods and Kings is played by the conspicuously fake-tanned Joel Edgerton.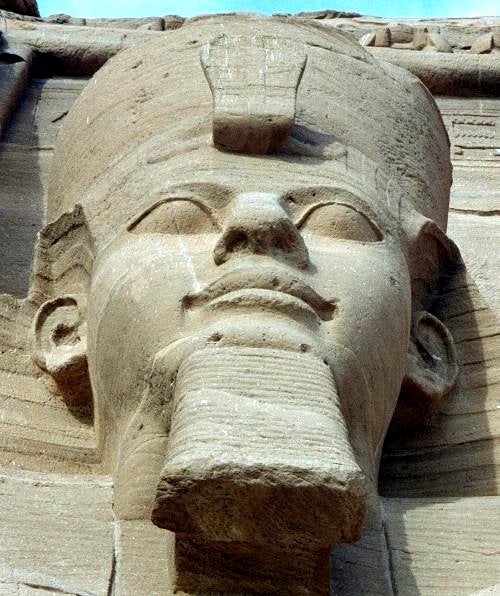 Photo via Wikimedia
It's not exactly unusual for historical movies to be full of little inaccuracies, particularly when they're blockbuster epics like Exodus. But in this case, it isn't just a matter of a prop statue looking different from a piece of real Egyptian art, it's the type of changes that were made. Simply put, they have taken an Egyptian statue that was built in Egypt and almost certainly based on an Egyptian face, and made it look like it belongs to a person with caucasian facial features. And people are not happy about that.
This "Exodus" movie is just not a real thing. Making the sphinx look more European. And the cast? LMFAO. Can we talk about the ENTIRE cast?

— TORUK MAKTO (@MrQuenchiAdams) July 29, 2014
So that Exodus movie crew built a separate Sphinx with white features….. White people have such fucking gall.

— Ank-su-namun (@HoneyCoquette) July 29, 2014
that Exodus movie is so ridiculous they made the sphinx white i literally can't handle this

— aisha (@anyastaisha) July 29, 2014
THE MORE I SEE THAT SCREENSHOT OF THE CAUCASIAN-LOOKING SPHINX FROM THE UPCOMING EXODUS FILM, THE MORE AND MORE UPSET I GET

— ラセンスのRasenth (@rasenth) July 28, 2014
The likeliest explanation is that the sculpture is not actually a sphinx, but is in fact a statue of Ramses. This obviously means that it would have been based on Joel Edgerton's face. 
Unfortunately, this just makes the whitewashed casting even more blatant, because real statues of Ramses II simply do not look like that. So while Exodus may not have made a "white version" of the Great Sphinx, this is still a case of Egyptian culture being erased and rewritten to fit in with the film's predominantly white cast of actors.
Photo via Wikimedia Commons