By Greg Beets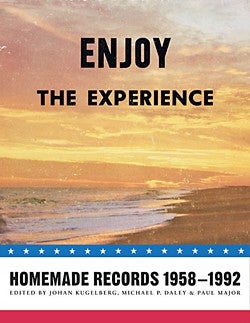 Enjoy the Experience and its accompanying two-disc musical companion are as quixotic as the obscure "homemade" records they celebrate. Just as performers had to be singularly determined to press and distribute their own vinyl in 1970, it takes an indefatigable sense of purpose to put out a coffee table-collapsing volume like this today.
The most compelling performers featured in Enjoy the Experience take familiar pop music motifs to an entirely new place by force of sheer personality. There's an earnestness to these records that belies their outsider designation. The result may sound all wrong, but it certainly isn't bad.
Wondering what wrong-but-not-bad sounds like? Take a listen to the tracks below. If you're hungry for more, the good folks at Sinecure Books have an even longer Enjoy the Experience playlist here.
1) Michael Farneti, "ESP Switch" (1976)
Rumpled-up Barry Manilow meets a low-budget variation of 10CC's grandiose production aesthetic in the summer of 1976. In the wake of Carl Douglas' "Kung Fu Fighting" cash-in, Farneti's headline-savvy, marina-friendly gem could've been a plausible AM radio contender if not for its subtle otherworldliness.
2) Dennis the Fox, "Piledriver" (1975)
Although the artist name and song title alone make the sale before a note is dropped, the brilliance of "Piledriver" lies in its hard rock aspirations frustrated by lounge act arrangements. No way this "truck drivin', pile drivin' mean mother trucker of a girl" comes off so harrowing in the hands of Black Oak Arkansas.
3) Peter Grudzien, "Kentucky Candy" (1974)
Enjoy the Experience co-editor Paul Major once called Peter Grudzien's The Unicorn "the greatest New York LP since the first Velvet Underground." Take a good, long snort of "Kentucky Candy." Imagine hearing its Mondo Nashville garble by way of "Desolation Row" depictions of sin and salvation for the very first time after a day of blind crate digging. Then you'll start to understand Major's assessment.
4) The Rhodes Kids, "I Like You" (1975)
The Rhodes Kids were Houston's largely forgotten answer to the Cowsills. Although they appear here on a 1975 Wonderful World of Disney special celebrating the Walt Disney World opening of Space Mountain, it's worth noting that their first producer was underworld pornography magnate Michael Thevis.
5) Lightstorm, "Give Me Your Love Not Your Money" (197?)
Also known as 33⅓, this Southern California combo was founded by husband and wife Jonema Wintergate and Kalassu Kay, who were (and still are) devotees of Bhagavan Sir Sathya Sai Baba. They are best known for their work on the oft-ridiculed 1982 horror film, Boardinghouse. This continuous shot living room music in grainy black and white stands in sharp contrast to Lightstorm's ARP synth-enhanced breeze pop.
6) Jerry Solomon, "Past the 20th Century" (1971)
Solomon once sold this accidental psych-folk treatise on temporal misplacement in the streets of Los Angeles. An original handmade copy of this forever out-of-time "real people" classic fetches a mint nowadays. Solomon is still around, too. He recently sang an ode to Viagra in a failed bid to get on America's Got Talent.  
7) Jeremy, "Loneliness is Such a Sad Affair" (1976)
A key exemplar of the so-called "loner folk" subgenre. Jeremy's Jimmy Durante growl is totally incongruent with the maudlin melody, which makes his description of coming home to an empty room and opening a can of beans the saddest thing you'll hear today.
8) Jr. & His Soulettes, "Mamma Love Tequila" (1971)
Rudimentary psychedelic soul played by four children singing about their mother's drinking problem. According to legend, their dad took the Psychodelic Sounds album to an Oklahoma City butcher shop to get it shrinkwrapped, destroying all but a few copies.
9) Just Us 2 (a.k.a. Bryan & Phyllis Barnes), "Jive Talkin'" (1977)
The Bee Gees reimagined by Suicide at a Houston area hotel lounge. Not that there's anything wrong with that.
10) Bobb Trimble, "Premonitions – The Fantasy" (1982)
Hailing from Worcester, Mass., Trimble's ultra-high falsetto and intricate Brit-folk arrangements seemed destined for perennial obscurity until Secretly Canadian re-released his first two extremely rare albums a few years back. Which is only fair, since he presaged that label's stock in trade by about two decades.