It's been said that Netflix and YouTube could make serious waves at next year's Emmy Awards. Here's why.
Now that awards season is over, Hollywood is starting to turn its attention to its next great shindig: the Emmys. The nominations for excellence in broadcasting won't be announced until July 18, but speculation is already brewing that this year could be a watershed for online programming.
"The Internet is about to come to consciousness about the Emmys," John Leverence, the vice president of awards for the Primetime Emmy presentation, told TVGuide.com.
Most critical attention thus far has hovered over House of Cards, Netflix's original series, directed by David Fincher and starring Kevin Spacey, and Julia Stiles's lead in Blue. But what about other unsung heroes of Internet television?
Once you take the webseries away from its current Emmy niche (Outstanding Creative Achievement in Interactive Media–one award for original programming, one for online tie-ins to television programming), the possibilities are endless.
So what webseries and original programming deserves a nod from the Emmys? The Daily Dot walks you through some of the nomination highlights–and the online programming that deserves your consideration.
Outstanding Drama Series
House of Cards probably has this nomination in the bag, but Halo 4, Booth at the End, and H+ should all be viewed as serious contenders for this category.
Outstanding Direction for a Drama Series
If anyone is nominated for online programming in this category, it's a clincher for Fincher, but we'd love to see Stewart Hendler acknowledged for his stellar work on two of this year's finest webseries: H+ and Halo 4: Forward Unto Dawn.
Outstanding Special Visual Effects
Halo 4: Forward Unto Dawn's phenomenal visual effects team has already nabbed a Streamy for Best Production Design and an industry award for Sound Editing. In an ideal world, Halo 4 would pick up Emmy recognition for its outstanding sound and video editing, cinematography, and production design; but if this series doesn't at least nab an Emmy nomination for Visual Effects, we say there is no justice.
Outstanding Writing for a Drama Series
Bryan Singer's action-packed sci-fi dystopia H+ killed it with an incredible first season of 40-plus episodes. TubeFilter called it "easily one of the most epic, well shot, well thought through web series released this year," and we're inclined to agree. Plus, given that Google Glass is actually making the technology of H+ seem less "futuristic" and more "right now," we think creator and writer John Cabrera has more than earned a writing nomination—if only for his prescience.
Outstanding Lead Actress in a Comedy
Issa Rae for The Misadventures of Awkward Black Girl.  Awkward Black Girl has been delighting audiences for over two years now, quietly giving the lie to the myth that women can't do comedy. It's past time for Hollywood to give Rae her due share of acclaim.
Outstanding Lead Actress in a Miniseries or a Movie
Troian Bellisario for Lauren. Julia Stiles is getting a just amount of attention for her moving portrayal of a struggling mom who's also a hooker in Blue, one of many Wigs's network series focusing on the lives of modern women. But her fellow Wigs series star Troian Bellisario deserves acclaim for portraying "Lauren," a soldier who runs into pushback from her superior officer when she attempts to report a rape.
Outstanding Short-format Animated Program
With its hybrid of animation styles, if Tom Hanks's arresting Electric City isn't at least nominated for this, we'll swear off awards ceremonies forever, until next year.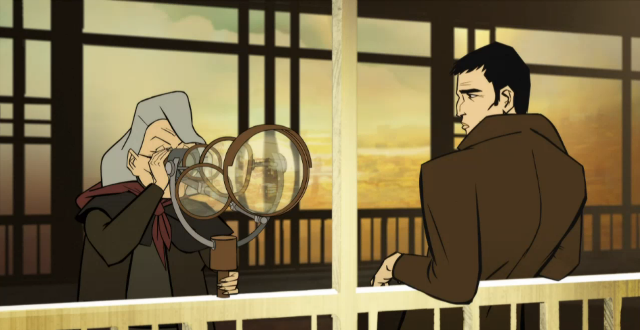 Outstanding Original Music and Lyrics
Elizabeth Chan for The Failure Club. So sue us. We just want to hear "The Christmas Song" again, all right?
Outstanding Casting for a Drama Series
Christine. Headed by the charmingly nonplussed America Ferrera, the casting is the strength of this Wigs series, as "Christine" speed-dates her way through a night of first-impression hell.
Outstanding Casting for a Comedy Series
Burning Love, Ben Stiller's hilarious Bachelor spoof, had an outstanding comedy ensemble cast throughout its first season, including cameos from Jennifer Anniston and Community's Ken Jeong.
Outstanding Nonfiction Programming
We love news commentary series The Young Turks, and as its YouTube channel closes on a billion views, it's high time this 8-year-old Internet phenomenon, along with creator Cenk Uygur, received more mainstream attention.
Outstanding Writing for a Comedy Series
Husbands. Buffy alumae Jane Espenson penned this popular series about two gay boyfriends who wake up married in Las Vegas. If only for making one of the staple tropes of slash fanfiction a reality, give her all the awards.
So what did we miss? If you were casting an Emmy ballot, what webseries would be at the top of your list? Let us know in the comments.
Screengrab via YouTube