While the 2014 Emmy Awards seemed to come out of nowhere, they've left a lasting impression.
Breaking Bad's Bryan Cranston couldn't keep his lips off people, Weird Al remixed your favorite TV show theme songs, and George R.R. Martin got Game of Thrones fans excited with the sight of a typewriter.
One of the most touching moments of the night came courtesy of comedian Billy Crystal, who paid tribute to his late friend Robin Williams.
The following are 13 GIFs capturing the best moments of the night. Catch the rest of the GIF-worthy moments on our Tumblr.
1) Breaking Bad took home all the gold. Aaron Paul took home his third Emmy for his role as Jesse Pinkman. He is one of five people to win this award more than once. Anna Gunn took home Outstanding Supporting Actress in a Drama Series for her role as Skyler White. Cranston took home his fourth statue for Best Actor for the notorious Walter White. The show itself took home the Emmy for Best Drama Series.

2) George R.R. Martin worked on the rest of the famed series A Song of Ice and Fire.

3) Bryan Cranston was all about giving and receiving kisses. Cranston planted the biggest of all on third-time Best Actress in a Comedy winner Julia Louis-Dreyfus.

4) Sarah Silverman ran to accept the award for Outstanding Writing for a Variety Special while allegedly high.

5) Louis C.K. took home the award for Outstanding Writing for a Comedy Series.

6) Billy Crystal paid tribute to his late friend Robin Williams.

7) Mindy Kaling kept it classy despite being snubbed for a nomination for Outstanding Lead Actress in a Comedy.

8) Cranston's Clark Gable-inspired mustache.

9) Weird Al remixes all the theme songs for Mad Men, Homeland, and Game of Thrones.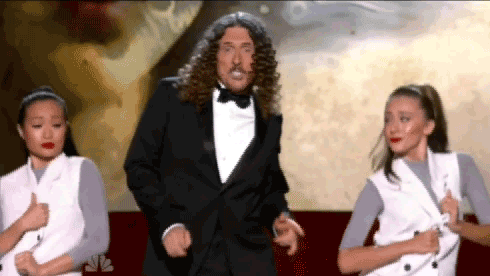 Main photo via Wikipedia | Remix by Jason Reed | GIFs by Jason Reed, Fernando Alfonso III, Allyson Holley | Additional reporting by Eric Geller