Lost in all the chaos surrounding Pete Wells' New York Times Review of Guy Fieri's American Kitchen and Bar in Times Square is the fact that you don't need to travel to Times Square to eat like Guy Fieri.
In fact, it only takes a few clicks of the mouse to collect every single item in Guy Fieri's cold-crushin' kitchen—or at least all the ones that have his names on the package.
Currently, online auction site eBay boasts more than 500 different items for sale that have been labeled with the Guy Fieri brand. There are books and movies and kitchen utensils and basically every kitchen-related item under the sun.
And the good news is, if you've got enough time and a patience for casually accumulating shipping fees, you can use the site to acquire any sort of kitchen-centric combination of items that will meet the Diners, Drive-Ins and Dives host's seal of dude-proval.
We've made it easy for you to start by running the eBay search for "Guy Fieri" ourselves. Below, an annotated list.
Time to get cookin'.
Guy Fieri Food by Guy Fieri (and Ann Volkwein)
Function: Learnin'
Price: $18.90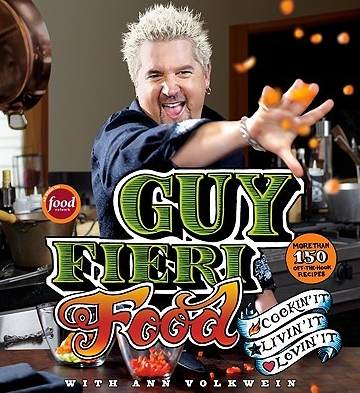 Guy Fieri's personal cookbook features more than 150 "off-the-hook recipes," including Guy's great Texas hold 'em sandwich, asparagus pizza, and something that's called a tequila lime tart. There's probably some mention of those cheese balls he's throwing at the camera on the book's cover, too. Take your lessons from the source—if you're not reading like Guy Fieri, you're gonna have a hard time cooking like the man.
Guy Fieri Knuckle Sandwich Santoku "Chopper"
Function: Knifin'
Price: $24.51

These elaborately designed "choppers arrive "in original packaging including Edge guard and 'User Guy'd'" (which seems like a really unbelievably euphemism for "user approved") and may just be the perfect knife for cutting through those mid-afternoon knuckle sandwiches—just as the Japanese intended 'em.
Guy Fieri 2 pc. Carving Set
Function: Post Cookin'
Price: $55.00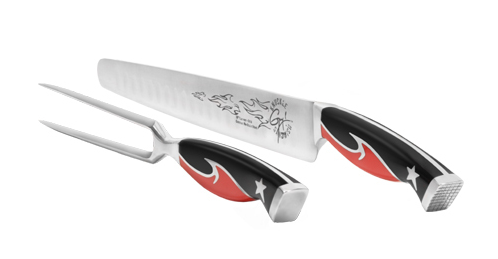 "Make a statement when carving your next ham, roast or bird." Yeah, use a carving set that looks like the Houston Texans' jerseys. That'll do it.
Guy Fieri 12-in. Spatula, Tattoo Cookin' It
Function: Stirrin'
Price: $7.95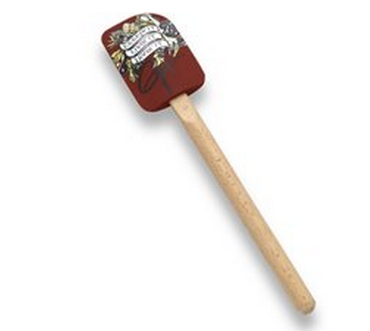 Give me a break, Guy. I already have a spatula.
Guy Fieri Preseasoned Cast Iron Reversible Double Burner Griddle
Function: Griddlin'
Price: $39.99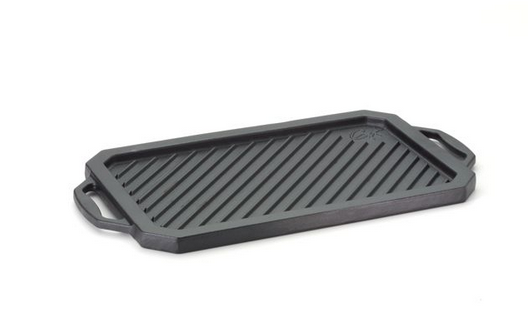 Bacon. Hot dogs. Pancakes. Chicken. This sucker is made to do it all. And at a 500 degree limit, there is literally no flame hot enough in my entire house to wipe that Guy Fieri pre-seasoning off of the griddle. This one's actually a pretty great deal. I need this griddle now, and I really needed it yesterday.
Guy Fieri Nonstick Tattoo Cookin' It Fry Pan
Function: Fryin'
Price: $24.95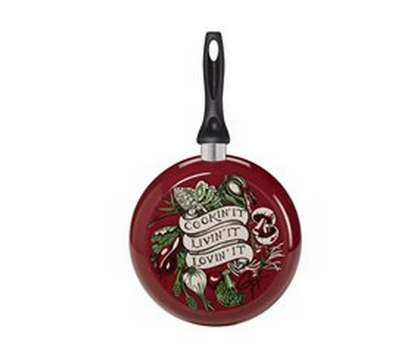 Alright, now we're cookin'—er, fryin'. With this blood red, aluminum frying pan, there is literally no bacon too greasy,  no egg too runny, no chicken too salmonella-y. You control the stove. Don't believe us? Guy Fieri said so, and he's all about the food.
Guy Fieri 12-in. Locking Tongs Stainless Steel
Function: Grabbin'
Price: $12.95
Guy, these are literally just regular, stainless steel locking tongs that you've attached your name to and marked up another five dollars. Same goes for the pizza wheel.
Guy Fieri Mask
Function: Imitatin'
Price: $0.25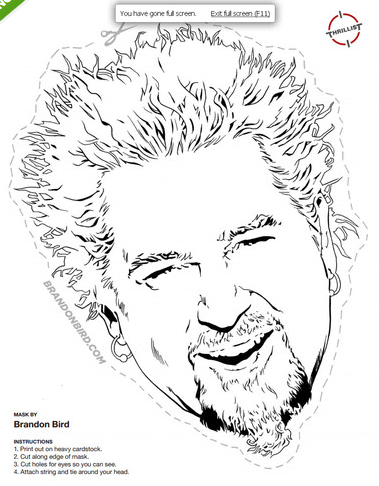 Because how can you expect to cook like Guy Fieri if you don't look anything like him?
You know, on second thought, maybe we should just order food from Pei Wei.
Photo via Guy Fieri/Facebook