Earlonne Woods is serving 31 years to life for an attempted second-degree robbery. Antwaan Williams is serving a 15-year sentence for armed robbery. They're also terrific behind the mic as the co-hosts of the Ear Hustle podcast.
The series, which launches this week, won the first Podquest contest put on by Radiotopia to try and find new talent and diversify the network. The show had to beat 1,537 people from 53 different countries to secure the gig. This is hardly the toughest challenge the creators have had to face, though.
Ear Hustle is brought to us by a unique partnership between Woods and Williams, incarcerated at San Quentin State Prison in California, and Nigel Poor, a free woman.
"Each episode has a different topic," Poor tells the Daily Dot. "And what we're trying to do is just cover different emotions."
Poor, a Bay Area college professor, first showed up to San Quentin Prison in 2011 as a volunteer teaching a history of photography class. After realizing the power of photography to bridge the gap between all kinds of issues and shed light on inmate's lives, Poor began to explore other storytelling methods inside the prison and tapped Woods and Williams.
After an initial film project fell through, the team landed on a podcast. Poor tells the Daily Dot she didn't know what that would entail, but the genesis of the idea five years ago was to record these inmates talking. Eventually the Hustle team decided to try and create a podcast so they could experiment with form and length without having to commit to stringent radio standards.
The audience would be the listeners of a closed circuit station within San Quentin, though soon Bay Area radio station KALW heard about the project and offered to help train the group. KALW's Crosscurrents is still airing segments, though they're unaffiliated with Ear Hustle.
For its part, Radiotopia is among the best artist colonies around. The podcast network was founded by Roman Mars of 99% Invisible and is run by the Public Radio Exchange (PRX). It's grown from a 2014 launch with seven shows to 18, and according to its website the network brings in 17 million downloads per month.
But the network's latest endeavor grapples with tricky ethics. The idea of creating Ear Hustle in the first place was meant as a kind of rehabilitation for the inmates; it would teach them a new skill set, new perspectives, they'd be able to dig deep into stories that theoretically shed light on their own situations. But these men are all in San Quentin because they are being held responsible for their crimes. There are real victims who have been hurt.
Though only one episode is available, Poor tells me that the show will deal with topics covering everything from roommates, pets, sex, race, celebrations, and other seemingly "normal" issues. But the show will also deal with the memory of an inmate's last day on the outside, the three-strikes law, escaping from prison, and dealing with the consequences of being in a gang.
The range of topics the show covers in the first season—the contest winner locked in a 10-episode run for 2017—shed the inmates in a human light. Listening to them deal with getting sick and going to work anyway is relatable. Even deciding to use episode 1 to discuss prison roommates (cellies) was a conscious decision to not turn off listeners by beginning with something too hard to hear.
Although Poor says the show is also meant to explore the fact that these men did terrible things, and are dealing with the consequences.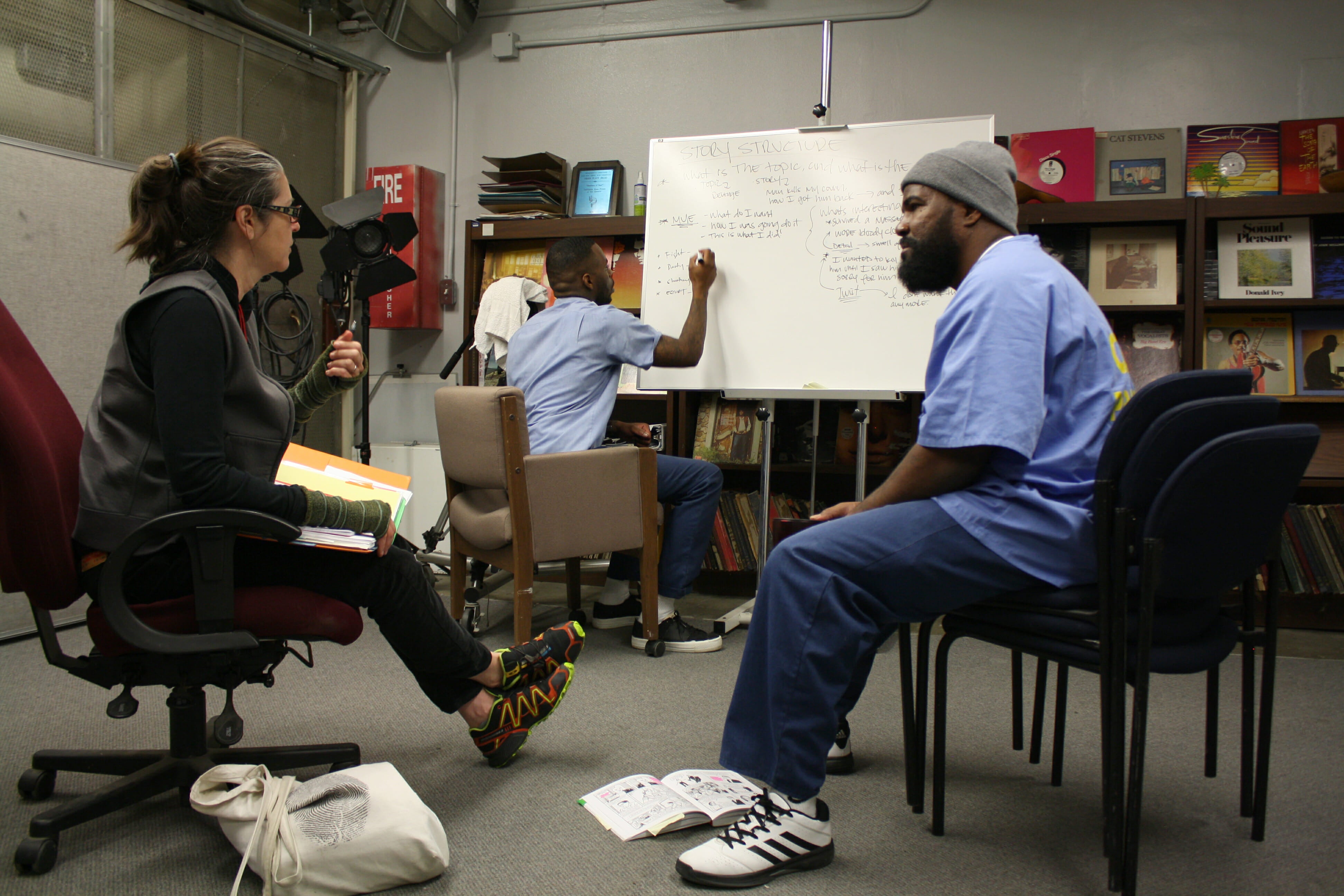 As much as this has been a positive experience for Poor, making a podcast with two inmates at a state prison is no walk in the park. Each time the team has a new cut of the show, or any new audio in general, or a written request, they need to run through a small series of administrative gymnastics that include burning CDs, asking San Quentin Prison public information officer Lt. Sam Robinson to listen to and approve the content, and asking for permission to bring their recording gear outside.
Poor has taken to writing transcripts of the show to bring to Radiotopia's consulting editor Curtis Fox, who makes his edits with a pen and paper. And when it comes to edits with Woods and Williams, if Poor wakes up in the middle of the night with an urgent or brilliant idea, she isn't able to email, text, or call her creative partners.
One of Poor's goals is to bring the show to all California state prisons and play it on each closed circuit station, but those same administrative tasks apply for each of the state's 33 prisons.
Radiotopia's Podquest has been vital, signing the show as the network begins flexing its reach with a cross-promotion campaign. Each of the other Radiotopia shows will release an episode about doing time over the next two weeks. The show has already been as high as No. 2 on the iTunes charts.
Episode 1 was sponsored by Mail Chimp, but landing ad partners for a show with two-thirds of its cast behind bars seems like an uphill climb. Radiotopia seems unconcerned, however, telling the Dot that the "high brand trust" the network brings to the table supersedes the sensitive material when it comes to finding sponsors.
But Poor is concerned with making sure the show doesn't romanticize life in prison, or ignore the real-world damage caused by these men.
"Someone suggested we do a story about this, and we haven't yet, but what do guys think is an appropriate punishment for a crime? And how do you deal with violence in society? And how do you deal with somebody who can't respect another person's life or another person's property? How do we repent and how do we reform?" says Poor. "I do want to be sensitive to people who are really going to disagree with what we're doing. Inevitably there are going to be people who hate this. Just hate it. And I want to be able to figure out how we can, if they're willing to, talk to them about that."
The conversation's already started, if nothing else.
Jeff Umbro hosts the Writers Who Don't Write podcast, which interviews creatives about the one story they've always struggled to tell.