It looks like Frieza will escape his eternal damnation from the Home for Infinite Losers—also known as Hell in Japan—in next year's new Dragon Ball Z movie.
Titled Dragon Ball Z: Fukkatsu no F, which translates to Dragon Ball Z: F is for Resurrection, the movie will see Frieza teaming up with Beerus, the villain from the last Dragon Ball Z movie, Battle of Gods. It will be released in Japan on April 18, 2015.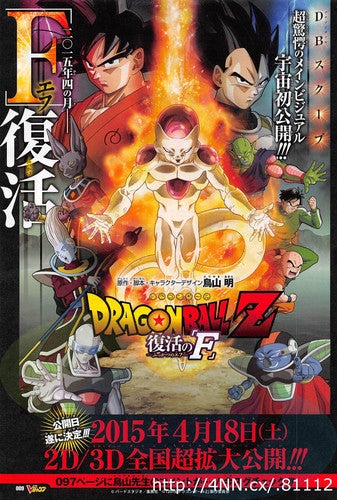 In an interview with Shueisha's V Jump magazine, series creator Akira Toriyama confirmed that the F in the film's name stands for "Frieza."
The plot is standard DBZ fare. The remnants of Frieza's army travel to Earth to find the Dragon Balls. Their hope is to bring all seven together and summon Shenron to request that Frieza be revived. Spoiler alert: Their wish is granted. When he returns, Frieza is hell bent on destroying Goku and his allies, most likely along with Earth.

These are two new characters who are the surviving members of Frieza's army. Their names are Sorbet and Tagoma (which means egg in Japanese).
If it's anything like Battle of Gods, we're hoping that they bring it stateside as well.
H/T Anime News Network | Header image via IQRemix/Flickr (CC BY 2.0) | Other images via Anime News Network