There's nothing metaphorical about the title of the Disney Channel series Dog With a Blog. It's literally about a dog with a blog, it's fantastic, and its second season debuts tonight at 8:30pm ET.
See, there's this dog named Stan, and due to an experiment gone awry, he has the ability to talk. He gets adopted by this family in Pasadena, and he starts writing a blog ("See Stan Blog"; URL never disclosed) at night. The kids (and their grandma, due a series of hijinks) know he can talk, but it's never established whether they know he can blog.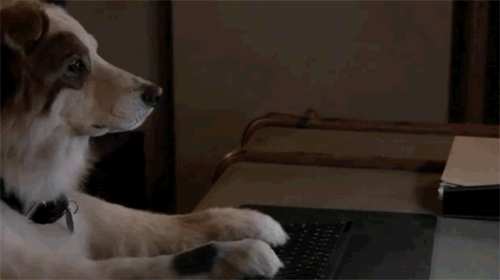 Anyway, the show's really fun! You should watch it! It has lots of positive female role models (of course, the male characters are dumb and lazy, like most shows about non-dogs) and also features the chronically overlooked Beth Littleford (she was one of the original Daily Show correspondents) as the family matriarch.
At the end of every episode, Stan hits his readers (whoever they are) with some truth about life, love, and learning. I made this supercut of his most emotional blogging moments because, at the end of the day, aren't we all just dogs with blogs?
Abraham Riesman is a multimedia journalist living in New York City. You can see more of his work at abrahamriesman.com.
Screengrab via Vimeo | GIF by Fernando Alfonso III